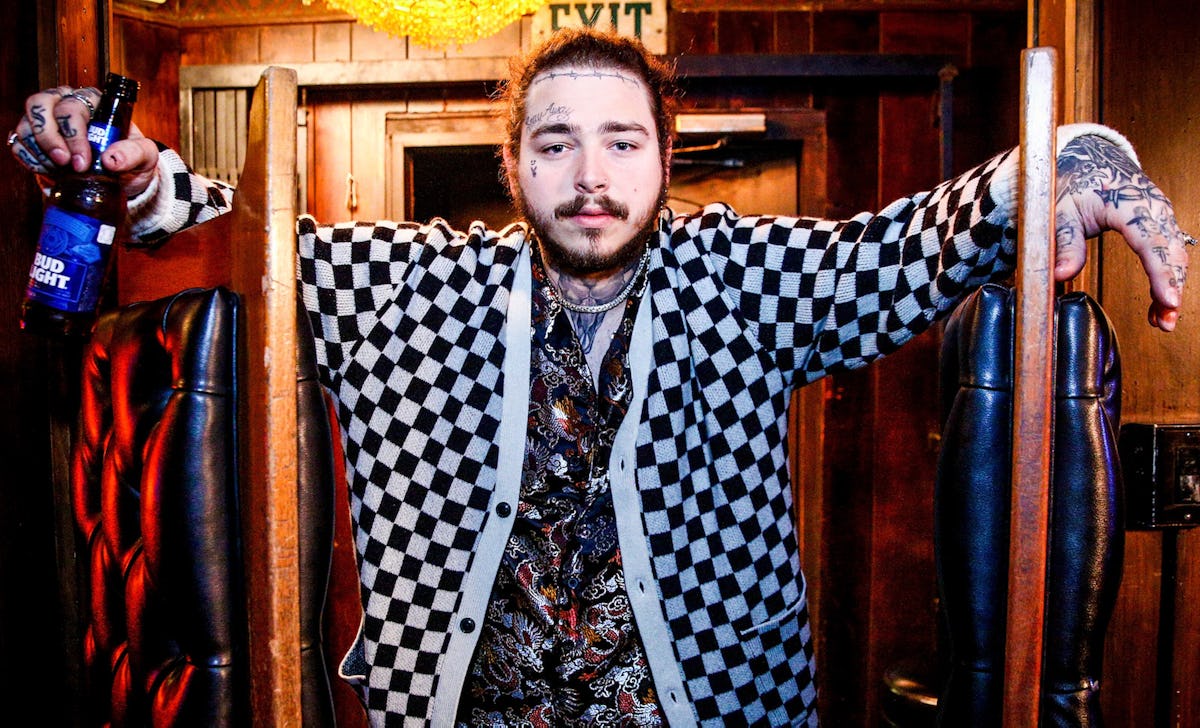 Post Malone Just Landed His First Acting Role In A Movie With Mark Wahlberg
Rich Fury/Getty Images
Post Malone is taking his first step into the acting world. The rapper blew up this year after the release of his second studio album Beerbongs & Bentleys and its inescapable single "Rockstar," and now, he is setting his sights on acting. Post Malone was just cast in Netflix's Wonderland, according to a new report from Variety. The upcoming crime drama also stars Mark Wahlberg, and it marks Post Malone's first-ever acting role.
Wonderland is described as a gritty crime drama and detective film, adapted from a novel of the same name by crime reporter Ace Atkins. The movie will follow an ex-felon turned detective named Spenser, played by Mark Wahlberg, who will go undercover when returning to Boston's criminal underground in order to crack a murder case wrapped up in a massive conspiracy. The Spenser character is at the center of a series of nearly 50 detective novels written by Robert B. Parker and Ace Atkins dating back to the 1970s.
Although we know that Mark Wahlberg will be starring in Wonderland as Spenser, Post Malone's role in the upcoming movie has not yet been revealed. It looks like this will be a great first acting job for Post Malone, though, considering all of his new costars. Along with Wahlberg and Post Malone, Wonderland will also star Black Panther breakout Winston Duke, Oscar-winner Alan Arkin, and Last Comic Standing winner Iliza Shlesinger. The cast also includes Bokeem Woodbine (Fargo, Spider-Man: Homecoming), Kip Weeks (The Strangers), Hope Olaide Wilson (The Fosters), and James DuMont (Jurassic World).
The casting announcement comes a couple days after Post Malone revealed a major change to his signature look. Along with his face tattoos, Post Malone has become known for his long hair, which was often worn down in two dreadlocks or up in a messy bun. Recently, the rapper shocked fans by revealing that he had cut off his dreads. Given the timing, Post Malone likely changed up his hair for his acting debut in Wonderland, which is currently filming in Boston.
Seth Rogen even chimed in to point out some similarities he noticed between Post Malone's new 'do and his own.
Netflix acquired the rights to Wonderland, and since the movie is currently filming, it will likely debut on the streaming service at some point in 2019. The new movie will not be the first time that the Spenser detective novels have been adapted for the screen. A TV series called Spenser: For Hire based on the character ran on ABC for 3 seasons from 1985 to 1988, starring Robert Ulrich as Spenser. And the character was also adapted for three TV movies on the A&E network that aired between 1999 and 2001, which saw Joe Mantegna as the eponymous detective. Now, it is Mark Wahlberg's turn to take on the role.
Wonderland also has the possibility of being a breakout film for Post Malone, since it will be his first-ever acting credit. Expect the Netflix movie to be released sometime next year.