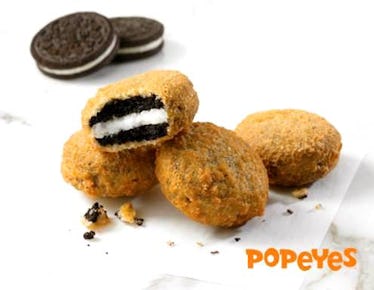 This Is Where You Can Get Popeyes' New Fried Oreos For The Ultimate Dessert
Courtesy of Popeyes
When it comes to choosing a restaurant to order lunch or dinner, too many options can make it a difficult task. With so many worthy restaurants to order from, you might be looking for something that makes one spot stand out. Since it was just announced that Popeyes is selling Double Stuf Oreo Bites for dessert, it looks like that's where I'll be ordering from tonight. Beware, though, because there is a catch with this sweet new menu item that's basically a fried Oreo.
As I said before, Popeyes is now selling Double Stuf Oreo Bites, which are essentially fried Oreos, and as a longtime sweet tooth, I am eternally grateful. I mean, is there anything better than chowing down on a full meal of fried chicken, followed by a hefty serving of fried Oreos? I think not. Anyway, according to Popeyes, these babies will officially be available to customers as of Monday, Oct. 1. If you want to know exactly what you're getting, the "dessert treat is made with Double Stuf Oreos coated in funnel cake batter and fried," according to Popeyes. So, it's basically your favorite carnival treat available right there at the Popeyes counter.
When it comes to shelling out cash for the sweet goodness, a two-piece will go for $1.99, a three-piece is $2.49, and a four-piece will cost you $2.99. As I said, however, there's a major drawback: Popeyes will be selling its delightful new desserts exclusively in Boston, Massachusetts.
Oh, and it's a limited-time offer. On the first of October, you'll be able to snag some from a few Beantown locations, but after a week, the Double Stuf Oreo Bites trickle into the remaining Boston restaurants. Here's to hoping this goes well in Boston, so that other U.S. cities might get the treat. Although, there are currently no plans to expand the offering, per Popeyes.
I'm telling you, there is seriously nothing better than a warm, gooey fried Oreo after a meal of crispy fried chicken. It's the ultimate comfort meal, really. Heck, I'm not completely opposed to heading up north to Boston for this glorious fried feast. Pack your bags, and rev up your engines, because looks like a road trip to Flavortown — er, Beantown — is just what the doctor ordered.
If you are in Boston, you can get your fill with Uber Eats, thanks to the recent introduction of Popeyes delivery in select markets.
But, if a trip to Boston isn't really in the cards for you at this moment in time (because, same), I actually have some pretty good news. Oreo State Fair Cookies can be found in the freezer aisle of your local Walmart. The Oreo State Fair Cookies were released in June 2018, and — even though they aren't technically fried — they come in two crunchy-coating flavors: vanilla and chocolate. They're really a pretty good dupe for their deep-fried counterpart.
TBH, Eating a few Double Stuf Oreo Bites right after a good-for-the-soul helping of Popeyes fried chicken is honestly everything I need right now. So, even though the highly-anticipated dessert is only available in Boston for a super limited time, it kind of sounds vital to my existence. Honestly, I'm currently Massachusetts-bound as we speak. As you'd imagine, I'm about to eat Popeyes clean of its Oreo supply — and there's nothing any of you can do to stop me.