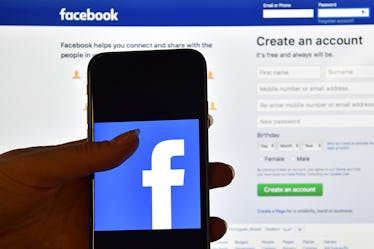 Facebook & Twitter Are Trying To Make Political Ads Less Shady
Carl Court/Getty Images News/Getty Images
More changes are finally coming to your favorite social networks! After mounting scrutiny of the social media giants, Facebook and Twitter seem to have taken notice of public concerns regarding advertising on their sites. Political ads on Facebook and Twitter are changing in an attempt for transparency.
The moves, announced Thursday, May 24, by each of the companies, are attempts to address vulnerabilities in the platforms' infrastructure so that they can't be exploited as severely going forward. Both companies have faced criticism in the aftermath of the 2016 election, for allowing groups to saturate their networks with political propaganda. For instance, Facebook said late last year that 126 million Americans may have seen content or ads created by Russian-backed trolls ahead of the election.
Facebook announced on May 24 that all political ads on Facebook and Instagram will be clearly labeled with a disclaimer that shows who it was paid for by. Users will reportedly be able to click on an archive, which will show more details about the campaign — its budget, how many people have seen it so far, and other details about people who viewed it like their age, gender, and location. The archive can store this information for seven years. Information about how these new policy changes work in practice will be shared with Facebook's newly-formed Election Commission, a subset of the tech giant that exists to research Facebook's impact on elections.
"We've been testing this new system for months, but it won't be perfect right away," Facebook CEO Mark Zuckerberg announced in a Facebook post. "If you see a political ad that isn't labeled, report it to us and we'll review it. If the ad meets our standards for political advertising, we'll take it down, add it to the archive, and prevent whoever ran it from running political ads until we can verify them.
Similarly, Twitter announced the same day that election ads will face added scrutiny. All advertisers for federal elections will have to prove they're U.S. residents, and all candidates and committees must provide their Federal Election Campaign identification.
Twitter said that accounts used for political campaigns must have a profile photo, header photo, and website that matches the entity's online presence, and their Twitter bio has to include a website with valid contact information. All these changes will take place in coming months — ahead of the November midterm elections. The company announced Wednesday, May 23, that U.S. election labels will appear on the campaign Twitter accounts of candidates running for state governor, U.S. Senate, or U.S. House of Representatives.
Again, similar to Facebook's Election Commission, Twitter included in the announcement that it would launch an Ads Transparency Center this summer. The goal is to "provide insight into all ads running on Twitter, with even more details on political campaigning ads, including ad spend and targeting demographics," the company's top engineers wrote in a blog post.
Critics of the tech companies have suggested that they ban political advertising altogether, since the potential harm has proven to be more than can easily be controlled. But Facebook noted in a news release that banned all political ads isn't as neutral as it sounds, since it could potentially give those who currently hold office an advantage.
In a blog post, Katie Harbath, Facebook's global politics and government outreach director and Facebook public policy director Steve Satterfield wrote that banning all political advertising "would tilt the scales in favor of incumbent politicians and candidates with deep pockets. Digital advertising is typically more affordable than TV or print ads, giving less well-funded candidates a relatively economical way to reach their future constituents."
It will be an important moment for these technology companies to demonstrate that they've heard their users. It's one thing to announce new initiatives, but it's another thing to deliver meaningful change after listening to stakeholders. Any way you slice it, the November midterm elections are definitely going to be a capital-m moment.