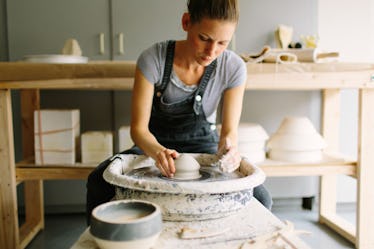 The Most Popular Hobbies For 2019 Are Here & You'll Want To Try Them All
With 2019 right around the corner, it feels like the perfect time to embrace something new. It's time to set new goals, start new routines, and maybe, in some cases, pick up a cool new hobby. The sky is the limit when it comes to choosing a hobby, but lucky for you, Pinterest revealed the top hobbies for 2019, and you'll seriously want to try them all.
From making money from a side hustle, to using your own two hands to create a ceramic masterpiece, Pinterest rounded up the trending hobbies for the new year — and I compiled a few of them to share with you. If you're already doing one or more of the hobbies on this list, maybe try to approach it differently, or use these Pinterest boards for further inspiration. (Because we all need a little creative nudge every once in a while, am I right?) And if you're not doing any of these quite yet, the new year is the perfect time to give them a try.
2019 is full of new opportunities. It's a fresh start — a chance to hit the "reset" button. Take advantage of it: Ring in the new year with a newfound passion for a brand new hobby.