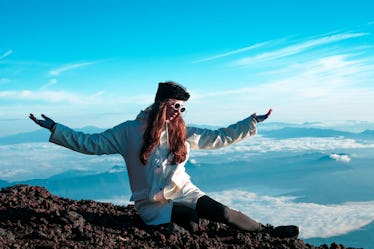 Forget Solo Travel — This 1 Travel Trend Is On The Rise & It'll Give You An Adrenaline Rush
Aliaksei Kaponia, Stocksy
Solo travel has been taking the world by storm, and it's easy to see why. Millennials across the globe are sharing their unique stories of living a nomadic lifestyle and crossing off top places on their bucket list. It has become a common aspiration, with dreamy destinations like Iceland, Amsterdam, Tulum, and Bali transforming into hotspots for passionate solo travelers. But this year, wanderlusters are looking for ways to add a little more thrill to their tours around the globe. "Adventure travel" has become the most popular travel trend, according to Pinterest.
This shouldn't really come as a huge surprise. Some of the most picturesque travel pics require some curiosity and a sense of adventure. From cave diving to exploring tree tunnels that look so surreal, you can get some pretty epic photos doing thrilling activities when you're traveling.
I don't know about you, but these activities sound exactly like the things I always look for when I'm booking my next trip. I live for anything that gets my adrenaline pumping. I'm longing to go skydiving and bungee jumping, and I'm always the first person to suggest going on an adventurous excursion when traveling with friends.
If you're just like me and want to add a little thrill to your next getaway, try out a few of these fun activities that are trending on Pinterest. Happy travels, and don't forget to grab your camera!