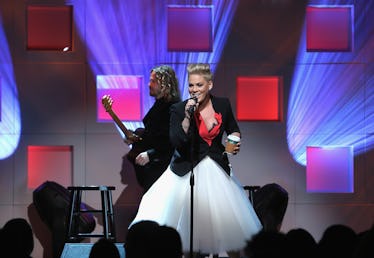 Pink's Net Worth Will Have You Wishing You Were A Grammy-Nominated Singer
Jemal Countess/Getty Images Entertainment/Getty Images
It's been 17 years since Pink released her first studio album. Since then, the Grammy Award-winner has sold more than 16 million albums and had four number one Billboard hits. She's also had 11 songs in the top ten, and has released a single every year since 2000 except one — all while being mama to daughter, Willow, and son, Jameson. The 38-year-old rocker — known for her signature, badass acrobatics — released her seventh studio album in October, and is currently prepping for a tour that will kick off in March 2018. So, just what is Pink's net worth?
Get ready to be jealous, guys, because estimates put Pink's fortune at right around $130 million. It's a pretty staggering sum, though totally well deserved — and not all that surprising given the pop star's massive success. But it is super impressive when you consider her humble beginnings. Pink grew up as Alecia Beth Moore in Doylestown, Pennsylvania. Her mom, Judy, was an ER nurse, and her dad, Jim, was an insurance salesman.
Pink started performing in Philadelphia clubs when she was around 14 years old, and joined her first band — an R&B group called Choice — at age 16. Now, a little more than 20 years later, she's getting ready to take the stage at the 60th annual Grammy Awards on Jan. 28 — where she's up for Best Pop Solo Performance. And get this — she'll also be singing the National Anthem at Minneapolis' U.S. Bank Stadium on Feb. 4, when her hometown team, the Philadelphia Eagles, take on the New England Patriots at Super Bowl LII.
Like Pink herself would probably say: F*ckin' perfect. Check out her reaction on Twitter when the news finally sunk in:
Amazing! But will the producers haul in a building so Pink can dangle on the side of it like she did at the AMAs? Remains to be seen, but my fingers are definitely crossed.
Of course, making hit records and crushing all those gravity-defying acts while belting out songs like "Beautiful Trauma" aren't the only tools in this fierce mama's arsenal. The "Raise Your Glass" singer has also locked down roles in movies like Get Him to the Greek (2010), Happy Feet Two (2011), and Thanks for Sharing (2013), and she's earned millions by endorsing companies such as T-Mobile, Sony Ericsson, VW, and CoverGirl — a company she became the face for back in 2012 during the brand's "Beauty With an Edge" campaign.
I mean, if that's not the epitome of beauty with an edge right there, then I don't know what is. Meanwhile, not only is Pink bringing in the big bucks, she's also giving them away. The singer is known for being extremely charitable, and most recently, she made a large donation to Hurricane Harvey relief efforts.
The official Twitter account for the Red Cross' Los Angeles division revealed that the pop star donated $500,000 — super-generous, right? Pink also joined forces with UNICEF this past November for World Children's Day. In order to encourage kids worldwide to unite to help save lives, fight for their rights, fulfill their true potential, and realize their dreams, children from more than 130 countries remade Pink's hit song "What About Us" in a heartwarming, collaborative music video.
"This World Children's Day, I am teaming up with UNICEF to remind the world that children and young people's voices matter and that their perspectives must be included in the decisions that will shape their future," Pink said in a statement.
Truly amazing. As a fellow Philly girl, I raise my glass to you, Pink!