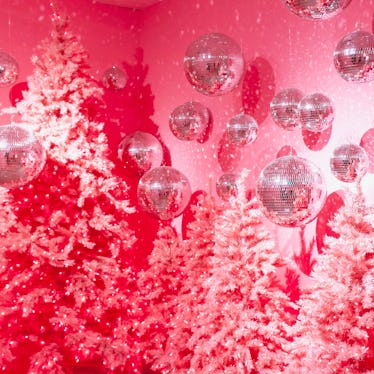 Pinkmas At The Museum Of Ice Cream Is Here To Make Your Instas Sparkle
What's pink, festive, and glittery all over? Museum of Ice Cream San Francisco's new Pinkmas installation, of course! The beloved Instagrammable destination debuted a new brightly-colored display just in time for the holiday season, featuring some seriously sparkly decor. If you're in need of neon colors and glitter on your Instagram, (Let's face it, who isn't?) Pinkmas at the Museum of Ice Cream is here to make your feed look merry and totally bright.
Every installation at the Museum of Ice Cream seriously makes my inner lifestyle blogger swoon, but it's safe to say the Instagrammable hotspot really sleighed it with Pinkmas.
Hot pink Christmas trees scattered throughout the museum are ornamented with white twinkling lights and surrounded by pink disco balls. (I wouldn't mind going to a disco party inside the Museum of Ice Cream, TBH.) Their tropical room got a festive makeover with the addition of bright green holly leaves and little red berries. Even their iconic sprinkle pool now rests in the center of a ring of pink and white Christmas trees to give your "throwing a beach ball in the air" Boomerang a festive twist.
Admission to Pinkmas also includes an exclusive taste of the Museum of Ice Cream's new "Gingerbread Disco" flavor, as well as some sweet goodies from MyMo Mochi, La Michoacana, and Ghirardelli. (Let's be honest: It would be a crime to go to San Francisco without savoring some Ghirardelli chocolate, so with a visit to the Museum of Ice Cream, you can cross two must-dos off your bucket list.)
What can you see when you get there?
The result of all of these additions is a true Christmas dream come true, so prepare to catch some feels for the magic of this place. The Museum of Ice Cream even incorporated a new display of shimmering red ornaments that dangle from the ceiling for an epic Kirakira+ moment.
Not only can you take a picture amongst the pink Christmas trees and festive decor, but you'll also get the best snaps posing in front of the museum's wall covered in rainbows (with the unicorn to match, of course), and the holographic corner that will legit have your pics glowing.
And of course, you can always visit their shop, where you can stock up on Museum of Ice Cream branded apparel and accessories, as well as their original ice cream flavors. (I've tried every one, and they are life-changing.)
When can you visit?
Pinkmas is only open for a limited time this season, from now through Dec. 30. (I suggest rounding up your friends as soon as possible to make a reservation before it gets booked up.) General admission tickets are priced at $38, or $29 for groups of 10 or more people.
Plus, exclusively for Pinkmas, the museum is offering free — yes, free — admission for the first 350 solo guests on Thursdays between 6:30 p.m. and 8 p.m. Now there's really no excuse not to visit.
Grab yourself a ticket, spoon, and sparkly Santa hat so you can enjoy Insta-worthy moments, and of course, some seriously delicious ice cream — all in the spirit of the holiday season. Happy holidays, everyone!