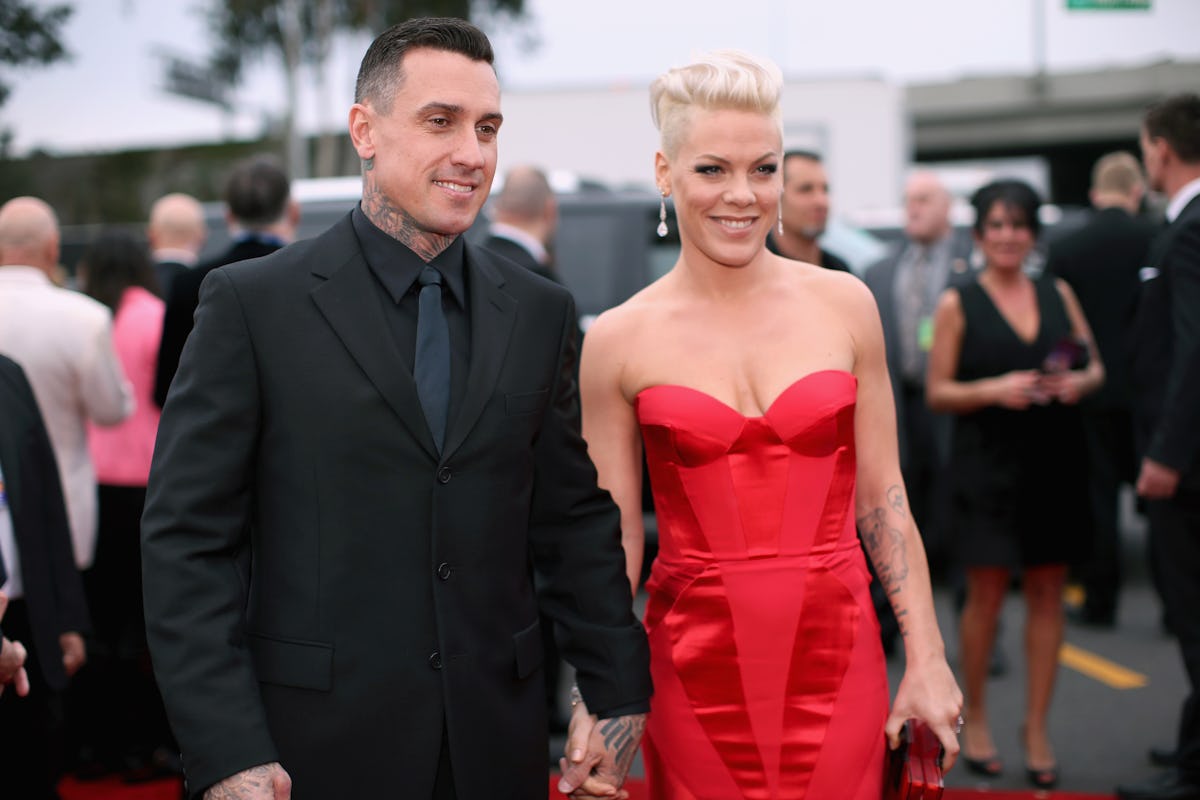 Pink & Carey Hart's Relationship Proves Love Takes Work, But It's So Worth It
Christopher Polk/Getty Images Entertainment/Getty Images
I can't imagine what it's like to be married to Pink, and I mean that as a compliment. It seems like the woman has lived a million lives, seamlessly transitioning from a young, partying pop star to a superhuman aerial artist and mother. The whole time, she maintained her star status as one of today's most powerful musicians and has perfected keeping her fans and industry on their toes. Of course, her husband has had a front row seat for it all. Pink and Carey Hart's relationship proves love does take work, but in the end, it is so, so worth it.
Pink and Hart have been married for 12 years, a triumph she doesn't take for granted. Pink has been incredibly candid about the difficulties of maintaining a healthy and happy marriage, and is the first to say it's not always a walk in the park. Back in 2008, Pink and Hart actually split up after two years of marriage.
The breakup inspired her song "So What," in which she famously sings the lyrics, "Guess I just lost my husband. I don't know where he went. So I'm gonna drink my money. I'm not gonna pay his rent."
To make things more intense, Hart was actually featured in the music video for "So What," even though it was about him.
Somewhere along the way, they worked things out.
Now, Hart and Pink have two children together and are still going strong. They have a 6-year-old daughter named Willow, and Pink gave birth to their son, Jameson, one year ago on the day after Christmas.
In a telling interview in October of 2017, she got really real with The Guardian, breaking down the ups and downs of her relationship. She explained,
There are moments where I look at [Hart] and [think] he is the most thoughtful, logical, constant … he's like a rock. He's a good man. He's a good dad. He's just the kind of dad I thought he'd be and then some. And then I'll look at him and go: I've never liked you. There's nothing I like about you. We have nothing in common. I don't like any of the s**t you like. I don't ever wanna see you again. Then two weeks later I'm like, 'Things are so good, you guys.'
She added, "Monogamy is work! But you do the work and it's good again."
Just when you thought she couldn't possibly get more personal, she brought up her and Hart's sex life. She commented,
You'll go through times when you haven't had sex in a year. Is this bed death? Is this the end of it? Do I want him? Does he want me?
Despite the obvious, intense back-and-forth between these two, they always come back to love. On their anniversary in 2017, Pink posted a photo of herself and Hart kissing with a super sweet message. She wrote,
Yum yum yum yum yum yum yum yum yum yum yum. that's one for every year care bear. I really like you this week. #happyanniversarymylove I'm very lucky to be able to say that you're mine. Thanks for sticking around.
This year for their anniversary, Hart shared a before and after picture of him and his wife, and wrote an equally touching message. He captioned the picture,
Today this beautiful woman and i celebrate 12 years being married. What a crazy ride baby!!!! Can't say there is a single person on this planet I'd rather spend my time with than you. We have built an amazing family, and life together. Who would have thought two misfits like us could have done such a great job. I'm so proud of the person you are, and more so the mother and wife that you have become. Like you always say "we live in dog years", so here is to another 84 years. I love you. @pink
Also, you guys. Look at this throwback photo I found of their wedding day.
Can you even deal with that?
Today, Pink is gearing up for her performance at the 2018 Grammys and Hart is strongly by her side. Tune in on Sunday, Jan. 28, to see the couple stroll the red carpet and watch Pink slay, slay, slay.
Check out the entire Gen Why series and other videos on Facebook and the Bustle app across Apple TV, Roku, and Amazon Fire TV.