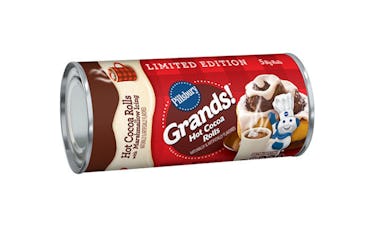 Pillsbury Just Released Their Hot Cocoa Rolls To Make Your Holiday Movie Marathon Even Sweeter
PILLSBURY.COM
'Tis the season for all the festive goodies, and yes, that finally includes the chocolatey twist on the breakfast buns that you've been craving since last Christmas. That's right, Pillsbury's Hot Cocoa Rolls have returned to grocery stores nationwide, which officially makes it the merriest time of the year in my book. Get ready to treat your taste buds to the tastiest cinnamon roll makeover you didn't know you needed, because these cocoa-filled pastries are peak festivity.
Few things evoke cozy winter mornings quite like the scent of cinnamon rolls baking in the oven while a cozy pot of hot chocolate (topped with marshmallows, of course) brews in the background. Apparently I'm not the only one who thinks that, because this classic sip and bite spread led the scientists at Pillsbury to do what they do best and combine these two magical entities into one delicious bun that's seriously festive. Last year, the world was first introduced to these chocolate-infused morning offerings when the company rolled out their take on a mug of steaming hot chocolate, but in giant cinnamon roll form. Unsurprisingly, people were obsessed with Pillsbury's newest creations, and blogger Junk Banter was especially taken with the creamy marshmallow spread on top, which the writer decided to crown as the site's official "glaze." Because it's apparently just that good.
The blogger wrote, "Marshmallow icing is provided in great quantity, and it's killer. The taste isn't that of Swiss Miss mini marshmallows – the kind you're likely to put in your hot chocolate. No, no, Pillsbury summoned something more magical for this cup of cocoa. The icing tastes wonderfully of Lucky Charms marshmallows." Seriously, what a time to be alive.
The revamped roll itself doesn't have any cinnamon in it, which means that it's more of a chocolate bun than anything. Instead of an ooey, gooey cinnamon and sugar filling, a hot cocoa filling awaits that's guaranteed to make your house smell "enchanting," according to Junk Banter. That plus the "Lucky Charms frosting" and you're bound to have the perfect breakfast for Christmas morning.
According to Delish, the seasonal containers — which feature five of Pillsbury's Grande! rolls tossed in the chocolate and marshmallow flavors of the season — are currently available for purchase at your local Walmart, Target, and Kroger stores, so I'd suggest planning your shopping trip ASAP and filling your cart with one (or 10) of these limited-edition items as well as some accompanying treats to make your Hallmark holiday movie marathon even sweeter. ICYMI, Target just released limited-edition Hot Cocoa M&Ms filled with, wait for it, marshmallow cream. It's almost like the purveyors at Pillsbury and your favorite M&Ms decided to collaborate on this to make our lives so much merrier this year, because these two new offerings might as well have been made for each other.
In other words, the holiday countdown is officially here, y'all, and you can bet that I'm celebrating by pairing my cocoa sips with the coziest accompanying treats of the season.