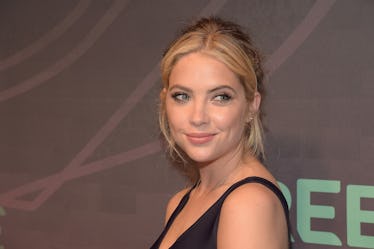 Ashley Benson Admits The Posters For 'Pretty Little Liars' Were Severely Photoshopped
Theo Wargo/Getty Images Entertainment/Getty Images
Fame is a weird thing, and it's arguably an even WEIRDER thing when you're a woman. It's no secret that the media touts a totally unrealistic standard of beauty, and still, many people strive to look like the women they idolize on TV. However, the pictures and videos we see of gorgeous, famous women often times aren't even accurate. For example, actress Ashley Benson says many of the promo images for Pretty Little Liars were severely edited. According to the star, photoshopped Pretty Little Liars posters regularly circulated during the show's seven-year run.
Benson says the problem began as early as Season 1, when she first started seeing posters of herself and her co-stars.
She told Stylecaster, "PLL had put up this poster and it was from our first season and it was completely crazy. Nobody looked like themselves."
She also broke down how seemingly endless the editing can be:
Even for magazine covers, they'll photoshop out a mole, make your boobs bigger or your waist four sizes smaller, and you're like, 'That's not even me.' You never know how it's going to turn out because you have no control and you're not editing the photos, but it sucks when you're like, 'Wow. That's a completely different person.'
Plus, one can imagine the mindf*ck it is for the women whose bodies are being edited, considering there is already a massive societal pressure to look a certain way in the limelight.
In response, Benson has asked photographers to not retouch her at all unless it's a very minor edit. For her, it's important the public knows what is real and what's not.
She said,
I always make sure to tell people, with any sh*t that I do or anyone else does, that unless it's announced that it's not photoshopped, it's photoshopped. And don't get down on yourself for not looking a certain way because it takes a lot of hair and makeup, a ton of good lighting, and after the shoot, it's all this editing.
In fact, Benson was so bothered in 2013 by a promo photo circulating for the show, she called it out on Instagram.
She wrote,
Saw this floating around….hope it's not the poster. Our faces in this were from 4 years ago … and we all look ridiculous. Way too much photoshop. We all have flaws. No one looks like this. It's not attractive.
Her co-star Troian Bellisario immediately agreed. She reposted the photo on her own Instagram and added,
Wow @itsashbenzo I couldn't agree more. Very cool concept as always. But aren't we attractive enough women as we are? Why can't we just look like us. Once.
For Benson, speaking out against Photoshop is important for the young women who look up to her and her co-stars as role models. In fact, People even reports Benson was called "too fat" at a size two. (For reference, according to Forbes magazine, the average size of an American woman in 2016 was 16.) The star explained,
I hate that people still make those comments. I don't think it should matter, the pressure of being a size zero, because everyone is talented. Everyone deserves a chance and the weight thing is too much pressure to put on anyone.
Benson added she does her best to stay off social media:
I feel like when you're always on social media, you're living in this fake life. I'd rather just not look and enjoy my time.
We couldn't agree more, Ashley.
Check out the entire Gen Why series and other videos on Facebook and the Bustle app across Apple TV, Roku, and Amazon Fire TV.