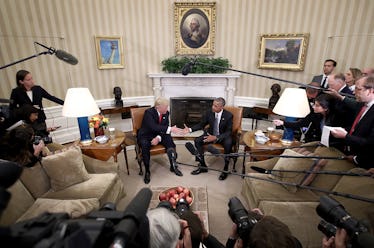 Obama & Trump Had Very Different Vibes In The Oval Office & It's So Fascinating
Win McNamee/Getty Images News/Getty Images
It has been about a year and a half since President Donald Trump took office, and if anything is clear, it's that he's doing things his own way, especially when compared to his predecessor. But, as anyone who's ever tried to insert some ~personality~ into their office cubicle knows, if you want to draw a real comparison, the key is in how they behave in their office — which is why I've assembled these photos of Trump's vs. Obama's Oval Office for you. You're welcome.
Comparing President Barack Obama to Trump almost seems like a moot point because the two are so different. But they share one vitally important similarity: the experience of being president of the United States. It's an undoubtedly tough job, but it does come with a few perks, including a pretty sweet office. The iconic room is home to some of the most important decision-making and deliberation and gives us a glimpse into both what these leaders like and how they operate.
Both leaders have been captured on camera tons of times, but with just a few photos we can get a feeling for what life is like inside that famous office. Taking a look at photos of both Obama and Trump working in the Oval Office shows just how similar and dissimilar the two are. Spoiler alert: It's much more of the latter.