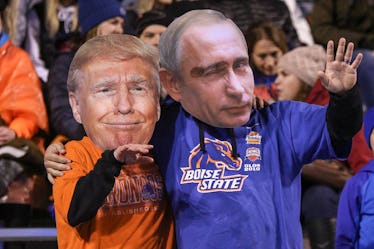 Side-By-Side Photos Of Trump & Obama Meeting World Leaders Says So Much
Loren Orr/Getty Images Sport/Getty Images
President Donald Trump has started out his presidency with both tense and interesting relations with world leaders, especially after receiving negative commentary from world leaders about his U.N. speech. The public has been skeptical of his relationship with Russian President Vladimir Putin due to the ongoing investigation into the extent of Russian interference in the 2016 election. Trump has also had shaky relations with powerful leaders such as North Korean leader Kim Jong-un, with whom he has gone back and forth with nuclear threats, and Iranian President Hassan Rouhani, with whom he has been exchanging public swipes about an ongoing Iran nuclear deal. There's so much tension, it's hard to keep up with. For those of you that miss former President Barack Obama's camaraderie with world leaders — and don't want to try sorting out Trump's friendship status each country — here are some photos Trump and Obama with world leaders.
First up is the Chancellor of Germany, Angela Merkel.
Merkel and Obama had a longstanding friendship over Obama's eight years in office, and it shows in their photos together. Obama's final phone call as U.S. president was reportedly to Merkel, where he expressed his "appreciation for their personal friendship."
Merkel and Obama are sharing quite an intimate moment.
While on the other hand, things seem less than intimate between these two leaders.
Next up is Chinese President Xi Jinping.
With Obama in the Oval Office, he was all smiles.
Even former first lady Michelle Obama is sharing a cordial moment with Jinping's wife, Peng Liyuan.
In this photo of the two leaders, Xi Jinping seems a bit hesitant to go in for the hand shake with Trump. Be careful on what you shake on, Jinping!
Next is the obligatory Trump and Putin complex that everyone is obsessed with dramatizing, considering Trump could never stop talking about Putin on his campaign trail.
The suspicions of their possible mischievous partnership started even before Trump was elected. I mean, look at this photo and tell me it doesn't scream trouble.
Things look cordial and normal here, until you compare it to the photo below. All of a sudden Putin's face in the first photo seems way warmer than his interaction with Obama.
There is nothing cordial or warm about this photo.
Here is a photo of Obama with Japanese prime minister Shinzo Abe, and they look like they've been buddies their whole life.
And then's there this photo, and things look a little more focused on business, and a lot less focused on friendship.
To save best for last, this has got to be the most stark difference of them all.
The first photo shows Obama and Pope Francis sharing a sweet moment of genuine laughs and joyfulness that cannot be denied. Looking at this photo has me dreaming about a world in which the Pope and Obama are best friends.
On the other hand, this photo has multiple talking points. First of all, Pope Francis is absolutely not having it, no matter how many cameras are pointed at his face. Also, Trump's fake smile is likely one of the less convincing fake smiles in his repertoire, and Melania Trump looks utterly confused, possibly questioning all of her life choices during this photo-op.
These candid moments captured between world leaders reveal more than any planned handshake or public statement could about how they really feel about each other. I think it also reveals that Pope Francis will probably never love another U.S. president as much as he loves Obama, and that Trump probably needs to spend more time in the mirror perfecting his fake smile for future photo-ops.