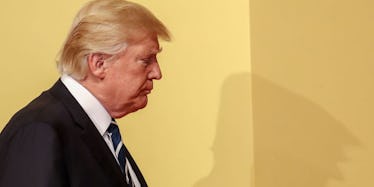 Comparing Trump & Obama's Faces While Meeting Putin Is Wild
Sean Gallup/ Getty Images
The anticipated first official in-office meeting between President Donald Trump and President Vladimir Putin was the subject of much scrutiny on Friday when the two world leaders met at the G20 Summit in Hamburg, Germany.
One user tweeted a side-by-side comparing Trump and Putin's first meeting and a meeting between Putin and Obama. Regrettably chosen stills, perhaps, but Obama looks almost defeated in this photo on the left.
One photo is particular seems to have caught on, and is now circulating as the touchstone for Obama-Trump comparisons.
To be clear, Obama and Putin didn't have just *one* handshake in the history of the world. One user also shared an example where Obama broke out his signature smile:
But most users are posting the Obama-Putin stare-down photo, and they're admittedly lightyears different.
In the photo of Trump meeting Putin for the first time at G20 on Friday, Trump goes in for a handshake, complete with his signature forearm grab. A few seconds later, we see Trump pat Putin on the back. (Curious what their handshake meant in psychoanalytical terms? We talked to some body language experts, and they had a lot to say.)
Trump's congeniality towards Putin is markedly different from Obama's in September 2016 at the G20 Summit in China. After that meeting, then-President Obama described the interaction as "candid, blunt, and businesslike."
For a president who was often all smiles around world leaders, Obama certainly knows how to dish up a death stare when it's called for. He's either practicing his stone-cold serious face (Magnum, for any Zoolander fans out there) in this picture, or appears to be having some intense emotions towards Putin.
The comparisons didn't stop at Obama -- shout-out to the House Of Cards comparison -- but they were easily the most dramatic. But this was just Day 1 of this year's G20 Summit. If anything is certain, it's that the world will keep watching and drawing its own conclusions, and we'll keep enjoying the captions and memes that ensue.