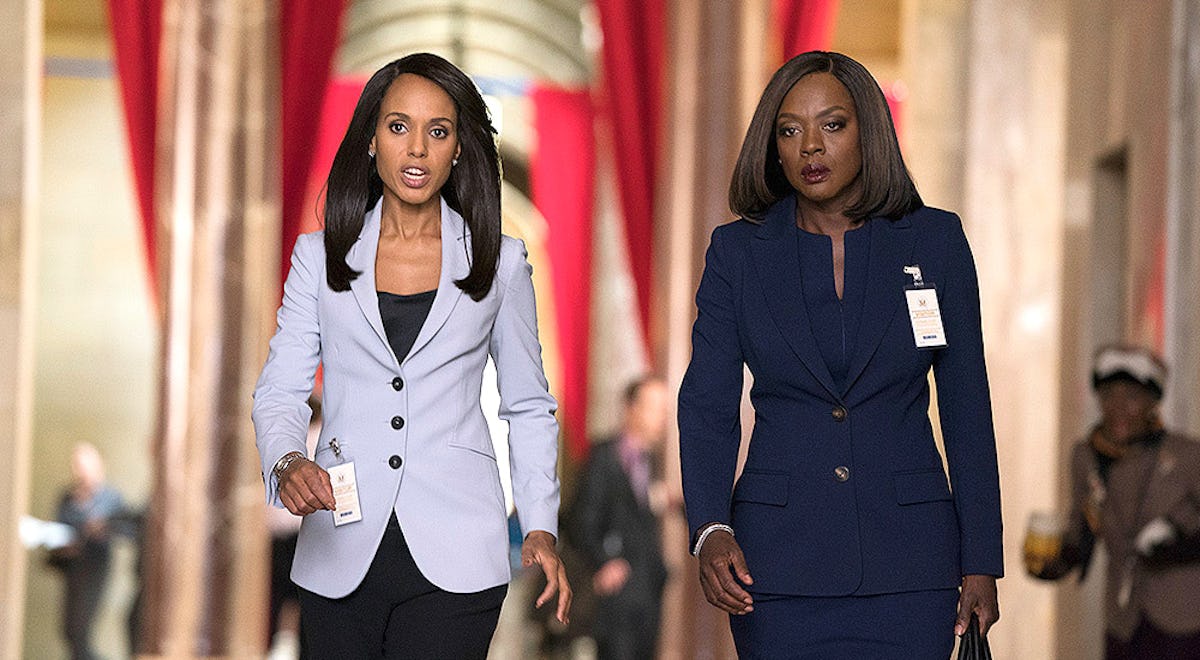 Photos Of Annalise Keating & Olivia Pope From The 'Scandal'/'HTGAWM' Episode Are Too Good
ABC
The Shondaland crossover that we have all been waiting for is finally about to happen, and now we have our first looks at Olivia Pope and Annalise Keating working together. ABC just released a whole bunch of photos from the upcoming Scandal/How to Get Away with Murder crossover event, and they will make you even more excited for the epic #TGIT worlds-colliding moment coming your way soon. Take a look at some of the shots from the two crossover episodes, and find out more information about what they will be about.
First things first, let's cover when this major Olivia Pope/Annalise Keating meet-up will be going down. The two new crossover episodes will air on Thursday, March 1, beginning with a new episode of Scandal at 9 p.m. ET and continuing into a new episode of How to Get Away with Murder at 10 p.m. ET on ABC. The ABC press site has also put up plot summaries for both episodes. The Scandal episode, entitled "Allow Me to Reintroduce Myself," will see Annalise Keating asking for Olivia Pope's help in getting a case before the Supreme Court:
In the midst of moving on from the White House, Olivia gets an unexpected visitor in criminal defense attorney Annalise Keating, who seeks her help in fast-tracking a judicial reform class action to the United States Supreme Court. However, after Olivia's recent fall from political grace, it's going to be more challenging than ever to get the support they need.
Hour two of the crossover event will be How to Get Away with Murder's new episode, called "Lahey v. Commonwealth of Pennsylvania," which will continue Pope and Keating's judicial struggle:
As Annalise's class-action case hangs in the balance, a meeting with the esteemed Washington D.C. fixer, Olivia Pope, proves to be crucial in getting the opportunity to argue her case in the nation's highest court. Meanwhile, Bonnie discovers concerning information pertaining to Simon that threatens to expose what really happened during the night he was shot.
But enough words, let's get to the pics. The first-look photos of the crossover show Kerry Washington's Olivia Pope and Viola Davis' Annalise Keating together for the first time, as they enter a meeting room to plan their next moves and have a serious-looking walk-and-talk down a government hallway.
The shots also show Annalise Keating meeting Scandal's other main players. Keating shakes hands with President Mellie Grant (Bellamy Young) in the Oval Office and appears to shut down something that Fitz Grant (Tony Goldwyn, who is also directing the Scandal half of the crossover) has said. All this while Marcus Walker (Cornelius Smith Jr.) looks on.
The crossover will also bring Annalise Keating's star law student Michaela Pratt (Aja Naomi King) into Scandal's Washington D.C. Pratt excitedly shakes hands with Olivia Pope in one new photo, and we also see Keating, Pratt, Pope, Fitz Grant, and Marcus Walker all sitting in a conference room together, presumably working on how they can help Keating's class action Supreme Court case.
In addition to all these new photos, ABC has also released two 30-second teaser trailers for the Scandal/How to Get Away with Murder crossover. Both clips end with the same confrontation between Olivia Pope and Annalise Keating. Keating tells Pope, "They're saying I'm a hot mess," to which Pope adamantly responds "This is my town, my game, my rules." Check out both of the new teasers below:
Though showrunner Shonda Rhimes has had multiple shows on ABC at the same time for years (currently three: Scandal, HTGAWM, and Grey's Anatomy), the upcoming Scandal/HTGAWM event will mark the first time any two of her shows will have crossed over with one another. The two-hour #TGIT crossover will air on Thursday, March 1 on ABC, beginning at 9 p.m. ET.