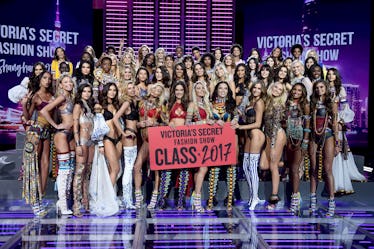 First Photos From The VS Fashion Show Are Here & They'll Make You Pumped For The Show
The Victoria's Secret Fashion Show was filmed on Monday, Nov. 20 in Shanghai, China, and other than some models and performers not being able to snag the appropriate visas for the event, the show went by without a hitch. Harry Styles performed, Lais Ribeiro donned the $2 million fantasy bra, and a great time was had by all. The show will broadcast on Tuesday, Nov. 28 on CBS at 10 p.m., as the show is always filmed ahead of time and broadcast later. Sorry to all of y'all who thought it happened live! The first photos of the 2017 Victoria's Secret Fashion Show are here, and they'll get you pumped for the broadcast. Plus, it has given us new photos and videos of Harry Styles performing, which is something we always need more of.
As previously reported, the confirmed models walking in the show are Lily Aldridge, Alessandra Ambrosio, Taylor Hill, Martha Hunt, Elsa Hosk, Stella Maxwell, Adriana Lima, Sara Sampaio, Lais Ribeiro, Josephine Skriver, Candince Swanepoel, Romee Strijd, Karlie Kloss, Jasmine Tookes, and Bella Hadid. Gigi Hadid was originally confirmed to be walking in the show, but she ended up not being able to attend the show because she reportedly couldn't get a visa. Katy Perry was reportedly set to perform but reportedly had to back out at the last minute for the same reason. Instead, the performers were Harry Styles, Miguel, Leslie Odom Jr., and Chinese artist Jane Zhang. The first photos from the 2017 Victoria's Secret Fashion Show prove this year's show is not one to miss.
Here are some of the 2017 Victoria's Secret Fashion Show models.
Harry Styles performed his songs "Kiwi" and "Only Angel" because what the heck else was he going to sing while walking among Victoria's Secret angels?
Leslie Odom Jr. and Harry Styles became best friends and it is the most pure thing in the world. Also, I ship them now.
If you don't know who Leslie Odom Jr. is, kindly exit stage left. He is the Tony-award winning actor who played the original Aaron Burr (sir) in Hamilton, you uncultured swine!!! His voice sounds the way velvet feels!!! You will respect him!!!
Harry Styles also had some marvelous dance moves during the show.
Martha Hunt made her way down the VS runway in some amazing wings.
Grace Bol slayed my damn life.
Ming Xi stunned in her wings.
Stella Maxwell killed it, obviously.
Bella Hadid went full glam.
Alessandra Ambrosio ended me. I no longer exist!
Jasmine Tookes, HOW ARE YOU REAL?
Adriana Lima stunned because she doesn't know how to do anything but.
And here's Lais Ribeiro in the $2 million fantasy bra.
Girllllll! This show is going to be insanely good. Love all these looks already, ladies. Great job. Keep up the good work. Please go eat a double bacon cheeseburger from Five Guys. You've earned it.
Lais Ribeiro confirmed she would be modeling the $2 million fantasy bra on the Victoria's Secret runway in an Instagram post on Nov. 1. In the post, she said,
I've been holding this secret for too long and I am beyond honor to announce that I will be wearing it the Champagne Nights Fantasy Bra this year! I am very happy and thankful for my Victoria's Secret family for trusting me and all the support from my on family, friends and fans! THANK YOU SO MUCH!!! its official!!
Gigi Hadid reportedly wasn't able to get a visa that would allow her to perform in the show this year, so she had to stay behind while little sister Bella Hadid walked in the show. Hadid said in a tweet on Nov. 16,
I'm so bummed I won't be able to make it to China this year. Love my VS family, and will be with all my girls in spirit!! Can't wait to tune in with everyone to see the beautiful show I know it will be, and already can't wait for next year! :) x
Even though both of the Hadid sisters couldn't make it to the show, it still looks like it was incredible AF, so you can bet we'll be anxiously waiting for the show to be broadcast on Nov. 28.