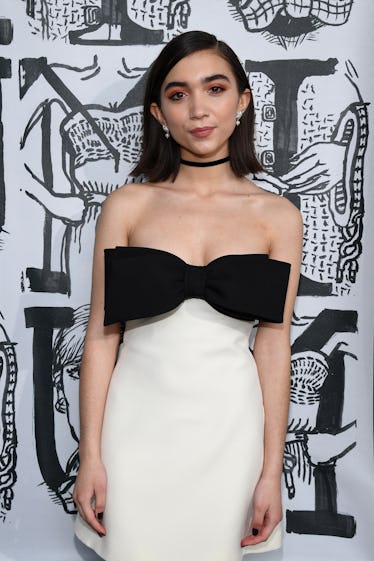 Rowan Blanchard Just Got A "Feather" Haircut & Now I Want A "Feather" Haircut
Pascal Le Segretain/Getty Images Entertainment/Getty Images
If you were a diehard Boy Meets World fan, then you'll remember Topanga Lawrence's flowing, Rapunzel-like locks. As a pre-teen, I vyed for hair as long and thick as hers. But photos of Rowan Blanchard's hair prove that sometimes, moms don't know best, as Topanga's fictional daughter's new feather bob could blow any lengthy beachy waves right out of the water.
If you're confused, let me clarify. A spinoff show called Girl Meets World ran on Disney between 2014-2017 that centered on the life of a girl named Riley Matthews, who was played by Blanchard. If you hadn't already guessed, Riley is the daughter of Topanga Lawrence and Cory Matthews on the show — Ben Savage and Danielle Fishel, the original Cory and Topanga, play the parts. Although the show has since stopped running, Blanchard has made a huge name for herself, not just as the kid of the most nostalgia-inducing pop culture couple ever, but as a burgeoning Hollywood darling and influential young activist.
Most recently, Blanchard appeared as Veronica Kiley in A Wrinkle in Time alongside Oprah Winfrey, Reese Witherspoon, Storm Reid, Mindy Kaling, and more. She's also been outspoken about topics including feminism, human rights, and gun violence, and spoke at the UN Women and US National Committee's annual conference as part of #TeamHeForShe. In short, the girl is a total badass. Fitting, then, that she would go for an impossibly chic yet subtly edgy crop just in time for spring.
Earlier this week, hairstylist Laurie Heaps transformed Blanchard's blunt shoulder-grazing cut into a choppy feather bob. As explained in a press release, "The ends of a feather are slightly textured but it keeps a curved shape that still looks blunt," explains Heaps. "This is exactly how I cut [Blanchard's] new chin length style. Rowan is always changing and evolving and so with that, I see her differently and the longer bob didn't reflect who she was anymore. She was ready for a change. Sharp edgy 90's babe meets French girl chic."
Sharp edgy babe meets French girl chic?! Have you ever heard of anything that sounds cooler? As a French major who owns a closet full of grungy floral dresses, this cut sounds like absolute perfection. And tbh, it is. Blanchard posted a boomerang with her new look on Instagram and it is everything one could ever want in a style. Paired with a red lip, it's très, très chic.
If you're dying to get Blanchard's exact cut, you're in luck. I received exact details on how it was achieved, so simply have your stylist follow this process and watch your hair transform: To begin, cut the base line in a soft U shape and then point cut it by taking the points of your scissors and chopping into the line to soften it. ''I wanted to keep the ends looking blunt, not overly texturized, just like a feather,' explained Heaps.
Once the cut is done, Heaps recommends following these steps for styling:
It seems like I'm back to the question I've been rolling around in my head for months: do I say goodbye to my long wavy hair that I've been growing out for two years? Blanchard certainly makes the case for Yes.