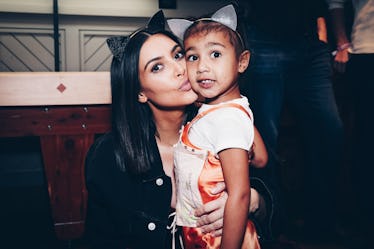 North West's Birthday Cake Was Filled With Candy & TBH, I Want One
Handout/Getty Images Entertainment/Getty Images
Birthday parties back in the day were absolutely incredible, especially as a 5-year-old. Between music, games, and pizza, there was no possible way to get bored... and the best part was obviously cake time. Whether said cake was homemade, or if it was a classic Fudgie the Whale ice cream cake, I definitely didn't — and still don't — discriminate in the world of sweets. But once you see photos of North West's birthday cake, you'll get major FOMO. It looked so freaking amazing.
On Friday, June 15, North West celebrated her birthday in New York City, according to TMZ. They reportedly met up with a few family members and friends at Polo Bar for dinner to celebrate the 5-year-old (which looked like a blast), but the best part had to have been the cake. Once you see it, you'll honestly be blown away.
According to Kim Kardashian's Instagram Story, dessert consisted of two different birthday cakes. The first of the two looked exactly like a cheeseburger, complete with two "buns," a "patty," "cheese," "pickles," and "ketchup," and it was topped with tiny "sesame seeds." Watching North blow out the candles was super cute, and am beyond jealous. This cake is so up my alley.
The second cake, on the other hand, may have been the most beautiful cake I've yet to see. Per Kim K's Story, it was incredibly tall with several layers, and it was entirely covered in rainbow sprinkles. On the very top of the cake, it read, "Happy Birthday North," which was accompanied by a sparkling candle. Just look at it, totally un-cut. It's amazing, isn't it?
After cutting into it, however, the inside showed the different colored layers of cake, and it was absolutely gorg. Between hues of pink, orange, yellow, green, and blue, it was basically an eighth wonder of the world on its own. It was a freaking unicorn sunset.
Shockingly, that wasn't even the best part. When Kim cut the cake all the way open, tons of sprinkles and candy poured out from the center. So, um, yeah... #BirthdayGoals, much? Literally, it was one of the most beautiful cakes I've ever seen.
It looked like North had a ton of fun at her birthday bash. She may have had a minor temper tantrum beforehand, according to TMZ, as Kanye reportedly carried her out of the car. But, eventually, they got her to her own party, and she met up with the rest of their family and friends. Just look at her cutting the cake with mom, aka Kim K! So freaking adorable.
Also, the family photo they captured altogether on the way in is amazing. You can check that photo out on her Instagram story. Look at all of them holding hands, looking like rockstars. I am speechless.
OK, but the best part of the birthday photo montage, in all honesty, was when Kanye was captured smiling. Yes, that's right, you heard me. Kanye smiled! At his daughter's birthday party! How wild.
Kim gave North a totally cute birthday shoutout on Instagram yesterday too, and if you have a heart, you'll probably tear up a little bit. In the photo, Kim K and North appear to be crafting, and North looks like a freaking princess. Kim refers to her as her "best friend for life," and it's honestly so worth looking at right now.
I'd always give a birthday cake five stars, but North's knocked the ball out of the park. The pictures and videos of her cake are so gorgeous, and I'm honestly very jealous. While I'm wishing North the happiest of birthdays, I really just hope I get an invite next year.