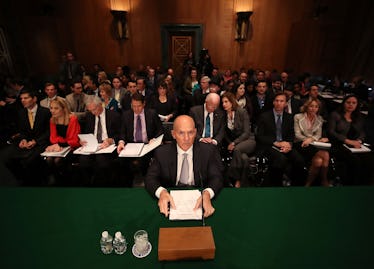 Monopoly Man Trolled The Senate's Equifax Hearing, & The Photos Are Perfection
Mark Wilson/Getty Images News/Getty Images
Who knew The Monopoly Man had such masterful trolling skills? A woman wearing a black top hat, white bushy mustache, and monocle sat in on the Senate Equifax hearing, and quietly upstaged the whole courtroom. She also handed out "get out of jail free" monopoly cards because... well... duh.
This week, Equifax, a credit-monitoring company, was brought to court over a data breach that compromised the information of more than 145 million people, Fortune reports. That means that incredibly sensitive information like names, birthdays, credit card numbers, home street addresses, and Social Security numbers, were accessed by hackers.
There were several issues Equifax had to account for.
The Department of Homeland Security notified Equifax on March 8 that there were potential security problems with its software, called Apache Struts, but that warning went mostly ignored. Former Equifax CEO Richard Smith admitted during the hearing, per the Los Angeles Times,
Equifax's efforts undertaken in March 2017 did not identify any versions of Apache Struts that were subject to this vulnerability, and the vulnerability remained in an Equifax Web application much longer than it should have.
Smith added that it was an "unpatched vulnerability" — in other words, a hole in their security — that allowed hackers to infiltrate the system, and extended his apologies to customers. He said,
To each and every person affected by this breach, I am deeply sorry this occurred. The company failed to prevent sensitive information from falling into the hands of wrongdoers.
The company is being accused of not acting swiftly enough, and waiting more than a month to reveal publicly that the company's data had been compromised. What's more, three executives sold $2 million in company stock sales, shortly after the breach occurred but before the news went public. In short, they made money, while over 145 million people got screwed over. (Equifax claims that the execs didn't know about the breach when they sold the shares, per CNBC.)
So, with all that in mind, it makes sense that the iconic Monopoly Man aka Rich Uncle Pennybags himself, would choose to make an appearance in court.
He was played by Amanda Werner, a campaign manager for Public Citizen, who sat impressively close to the action and dabbed her brow with fake money throughout the trial.
Werner was protesting forced arbitration clauses, which curtails consumers' abilities to bring their disputes against the financial industry to court.
After the breach, Equifax offered affected customers a free credit monitoring service. However, the fine print (which was later removed due to an onslaught of outrage) included a clause that forbade customers from suing the company or taking part of a class-action lawsuit.
In a Twitter message to CNN Tech, Werner explained further,
I am dressed as the Monopoly Man to call attention to Equifax and Wells Fargo's use of forced arbitration as a get-out-of-jail-free card for massive misconduct. They use these ripoff clauses buried in the fine print to ensure that consumers can't join together to hold them accountable in court.
She also told CNBC in an emailed statement that arbitration is a "rigged game," that is used to "rip off consumers with impunity."
Here she is in all of her Pennybags glory.
Twitter was having a *field day* over Monopoly Man's cameo at the hearing – giving particular shout-outs to the mustache twirling and brow dabbing.
As grateful as we should all be that Monopoly Man was there, fighting the good fight, there were several senators who also stepped up to the plate.
Chairman of the House Energy and Commerce Committee Greg Walden (R-OR), called Equifax's handling of the breach "ham-fisted" and "unacceptable," according to The Washington Post.
Rep. Joe Barton (R-TX) added that Equifax is collecting more data from customers than necessary, and suggested that something needs to done regarding data security legislation.
"I think it's time at the federal level that we put some teeth into this," he said.
Sen. Elizabeth Warren (D-MA) is using Equifax's screw up as a means of promoting legislation that will prevent future catastrophic security breaches.
Warren explained in a press release,
Credit reporting agencies like Equifax make billions of dollars collecting and selling personal data about consumers without their consent, and then make consumers pay if they want to stop the sharing of their own data. Our bill gives consumers more control over their own personal data and prohibits companies like Equifax from charging consumers for freezing and unfreezing access to their credit files. Passing this bill is a first step toward reforming the broken credit reporting industry."
Good for the people, not so good for the agencies. I bet somewhere ol' Pennybags is already wiping his brow with disgust.