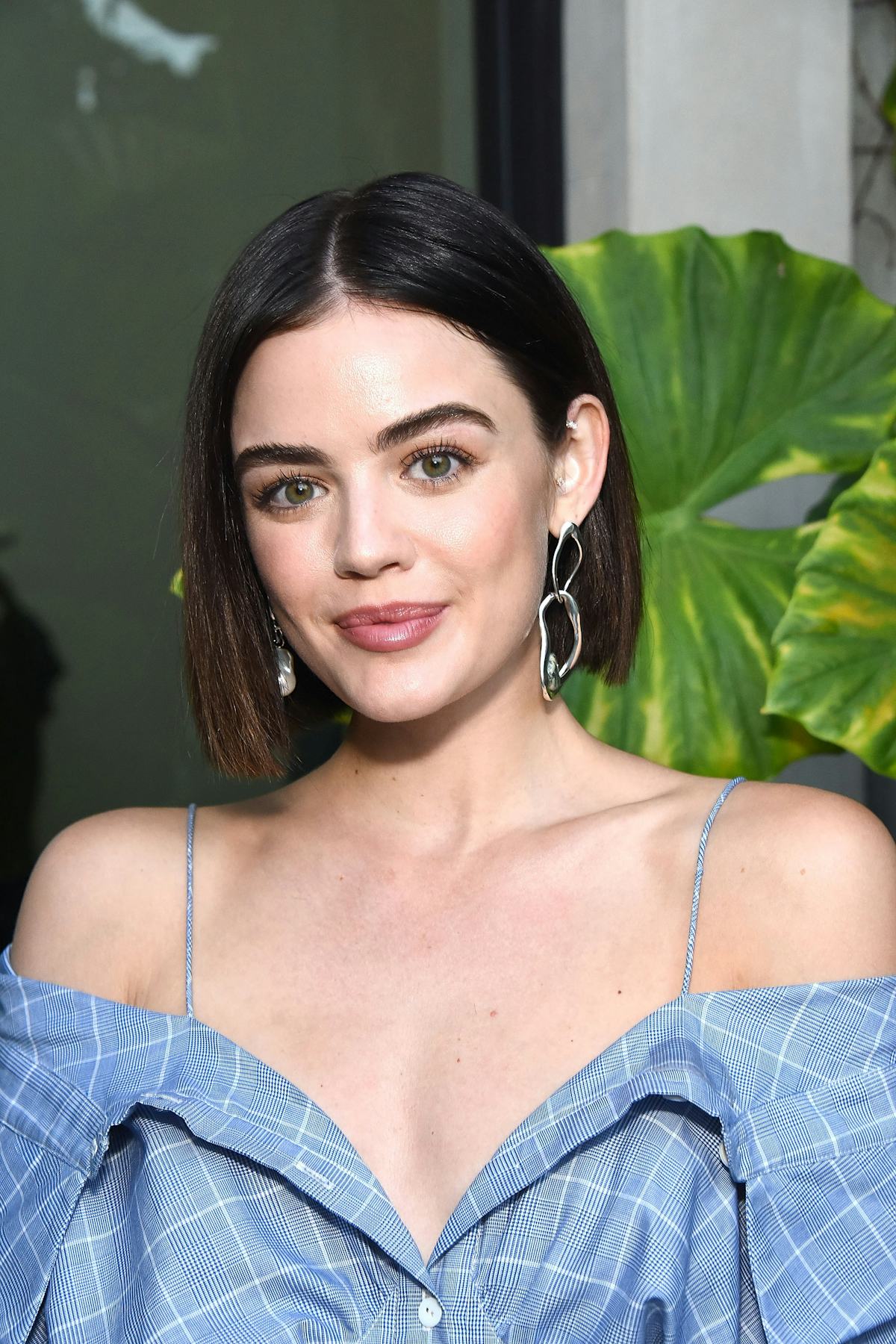 Lucy Hale Just Made A Major Hair Change & It's So On Trend For Fall
Araya Diaz/Getty Images Entertainment/Getty Images
If you had any doubts about lightening your hair color for fall (typically people to choose to lighten for summer and darken for fall but who wants to be typical?!) photos of Lucy Hale's blonde hair will convince you it's absolutely the right choice. The Pretty Little Liars actress took to her Instagram stories yesterday to share snaps of her new honey ombré hair and honestly, she's never looked better. Her new shade—or should we say shades, range from a deep chestnut brown at the roots to a beautiful golden blonde at the tips, giving even the best of fall's foliage a run for its money. Lucy, you're home—your hair looks incredible.
What makes Hale's hair change that much more exciting is the fact that the actress has rarely done something so dramatic with her color. For her role as Aria, she had streaks of hot pink in the underneath layers but most of her hair remained her deep brown chocolate shade. Earlier this year, Hale once again tried a pink hue, this time a rose gold and in a more dramatic fashion. Her lob was transformed to a beautiful melange of deep brown roots that faded into the deep floral hue and gave it this mystical, fairy-like effect. Yes, this transformation was drastic—but it wasn't permanent, which is why I stand by my opinion that her new blonde hair is her biggest hair change yet. To get the rose gold color Hale's longtime stylist, Kirsten Ess, used the Rose Gold Temporary Tint spray from her eponymous line.
It was only right, then, that Ess was also be in charge of Hale's newest hair venture.
Hale's first post to Instagram stories was a mirror selfie that showed her sitting in a chair with Ess and her team behind her. "Hair Phase 2," the story read, indicating that Hale had already gone through some of the lightening process.
Two hours after that initial post, Hale took to Instagram stories once more. Sipping on boba tea, Hale showed fans the layers of foil that had been put into her hair as part of the ombré process. To achieve an ombré look, colorists have to paint in the lighter color in order for it to blend into the darker root seamlessly.
And finally, seven hours later, Hale revealed the final look. Her dark roots blend seamlessly into the light tips, which look as if they've been sun-kissed on a recent beach vacation. Now that is what I call a natural looking dye job! "10 1/2 hours later..." the photo was caption, indicating that the coloring process took nearly an entire waking day. (I'm exhausted just thinking about it.) Was it worth it? Absolutely, imho. It's always fun to see a celebrity try something new out, especially when its as drastic as this.
If you're thinking about opting for ombré, make sure you go to an experienced colorist who can talk you through the process and give you a hair care regiment post-dye that will help keep your hair healthy. Ombré almost always requires bleaching, so intensive hair masks and treatments are recommended.