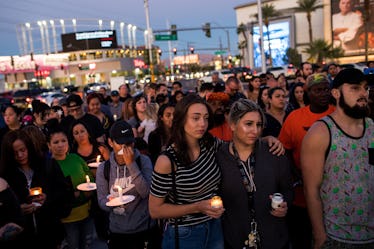 These Photos Of Vegas Shooting Victims With Therapy Dogs Are Everything We Need Today
Drew Angerer/Getty Images News/Getty Images
The country is still reeling from the Oct. 1 shooting in Las Vegas — the deadliest in modern American history, killing at least 59 and injuring more than 500. News channels like CNN have been practically wall-to-wall with coverage of the devastation, but humans can only take so much. Which is why the news that therapy dogs are helping Las Vegas shooting survivors and emergency responders cope by being furry, cuddly, and loving is exactly what the world needs right now.
Several therapy dog services, including Michael's Angel Paws, a Las Vegas-based charity that trains therapy and service dogs, brought several therapy dogs to visit some of the survivors of Sunday's shooting, according to Washington, D.C. ABC affiliate WJLA.
But it wasn't just for cute effect: therapy animals are important tools for people dealing with stress and trauma.
On a micro level, there's a reason petting your dog (or cat, or fuzzy creature of your choice) after a particularly tough day is relaxing. Therapy animals relieve stress and anxiety. Petting a dog can also, according to CNN, lower blood pressure and release oxytocin in humans — a hormone which can have calming effects.
More importantly, however: myriad studies have shown that therapy animals have an overwhelmingly positive effect on individuals with mental illnesses and survivors of trauma and Post-Traumatic Stress Disorder (PTSD).
Survivors, victims' families, emergency responders, and others can and often do develop PTSD after mass shootings. The National Center for PTSD says that "mild to moderate" trauma from mass shootings is common for victims, families of victims, and emergency personnel on hand at the event. It's even common for these events to cause mass cultural anxiety, per Psychology Today.
But the Center also says that the prevalence of mass shooting-related PTSD can be managed and minimized with the right tools.
That's why there were therapy dogs on-call at Pulse night club shooting vigils in 2016. There were therapy dogs around to help comfort people after the Boston Marathon bombing in 2013.
And that's why it's not just cute that these dogs are roving the Las Vegas hospital hallways — it's essential.
Some of these buddies showed up in rubber booties, and allowed people to gather and give them pets.
A gaggle of golden retrievers waited patiently before going to see survivors and emergency responders in the hospital.
They are doing a fantastic job, spreading smiles and helping people just take a break — even if only for a moment — from the traumatic events on Sunday.
This hospital visit isn't the first time this week that therapy dogs have showed up to comfort the residents of Las Vegas. They've been working hard to help people all week. One woman, Erin Megin, said on Facebook that the dogs also attended one of the vigils:
These dogs came to our candle light vigil directly from the airport Monday night and the comfort and peace they brought to me and others was immeasurable.
In fact, Lutheran Church Charities's K-9 Comfort Dogs, a nonprofit based in Illinois, deployed its dogs to Las Vegas shortly after the shooting. They were present at a candlelight vigil, visited several hotels, and then made their way to at least one hospital, where they greeted both staff and survivors.
Canine comfort isn't just helping people in Las Vegas: Los Angeles International Airport followed suit, upping the number of therapy dogs available at the airport — just in case anyone needed comfort after the shooting.
It's heartening to see pictures of people in Las Vegas smiling and to know that people have traveled hundreds of miles just to help survivors cope. But at the same time, the undercurrent of frustration and desperation — will these mass shootings, which are getting worse and worse — ever stop?
Until President Donald Trump and Congress decide to stop offering empty thoughts and prayers and start enacting real, effective legislation, comfort dogs can only do so much.