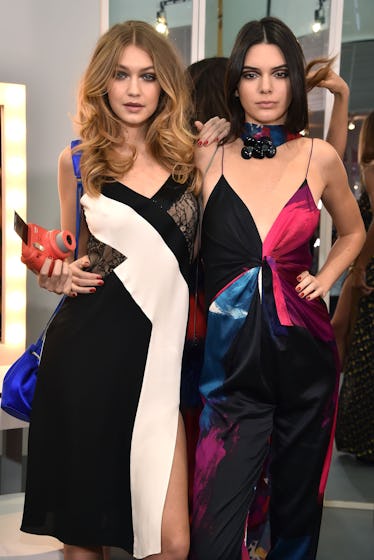 Kendall Jenner & Gigi Hadid Did A 'Star Wars' Photo Shoot & People Are So, So Pissed
Dimitrios Kambouris/Getty Images Entertainment/Getty Images
I can't help but love when ridiculously good-looking famous people are BFFs with other ridiculously good-looking famous people. Case in point: Kendall Jenner and Gigi Hadid. Both girls are gorgeous (obviously) but they're also both go-getters when it comes to their careers, and honestly, I'm going to raise a glass to them for that. But Harper's Bazaar recently published a fashion-forward article that shows photos of Kendall Jenner and Gigi Hadid's 'Star Wars' photo shoot and, ouch, you guys. It is NOT pretty.
This is one gig where I'm pretty sure they should have passed up.
Let me be clear: the girls look pretty fierce if I'm being honest, and in theory, it sort of sounds kind of cool (any Jedi fans out there?), but the overall reaction the photo shoot received was kind of brutal. Especially because the shoot itself was not a traditional photo shoot – Jenner and Hadid were actually drawn into the scenes via illustrations – so you'd think the backlash would be not as savage. But if you were thinking that, you're WRONG! SO wrong!
A staggering amount of Star Wars fans took to social media to complain about the celeb's intrusion into their fandom, feeling insulted by the mere idea that the pop culture queens dare enter into their territory.
Here's a little preview of the shoot itself, for those who are wondering:
And go over well, it did not.
That last tweet is sort of a spoiler for those of you who still have Star Wars: The Force Awakens on your bucket list. Sorry, I am not.
This isn't the first time that the internet lashed out on Jenner and Hadid, either. 'Memba that time Kendall and Gigi wore dreadlocks on the runway at Marc Jacobs' Fashion Week back in 2016? Long story made very short, the pair got a ton of heat for cultural appropriation and had to deal with a load of backlash for it.
But let's just think about this for a minute – shouldn't the anger be directed toward the designer/illustrator/whoever is orchestrating the whole damn show, and not the models themselves? Jenner and Hadid didn't come up with the ideas on their own – it was most likely suggested to them to accept the job and go along with whatever's necessary. I'm going to go out on a limb here and say that Jenner and Hadid are not entirely at fault for their most recent Star Wars faux-pas. But does the Star Wars fandom care about my opinion?
Care not, they do. (I'm REALLY hoping at least somebody is getting all of my witty Star Wars references, here.)
In Harper's Bazaar's interview with illustrator Brian Rood, he talks about the collaboration of the models and the movie:
They came through and they went through some of the storybooks that I had done and picked out some of their favorite iconic scenes from the Star Wars films, with backgrounds everybody felt familiar with that you've seen a million times, and they had a list of the models in those scenes that they wanted with the outfits they wanted. You know, kind of replace Luke with Kendall Jenner. So that's kind of how that evolved.
Replacing Luke Skywalker with Kendall Jenner. Is it just me, or is that a stretch? Regardless, Twitter roasted his illustrations and called him out on this bizarre mash-up.
Yikes.
Kendall, Gigi: if you're reading this, listen, I get that this whole thing probably sounded super-cool in theory. But next time, maybe take on a fandom that doesn't have a cult following, OK?
Let's just stay far away from, erm, any galaxies that are far, far away.