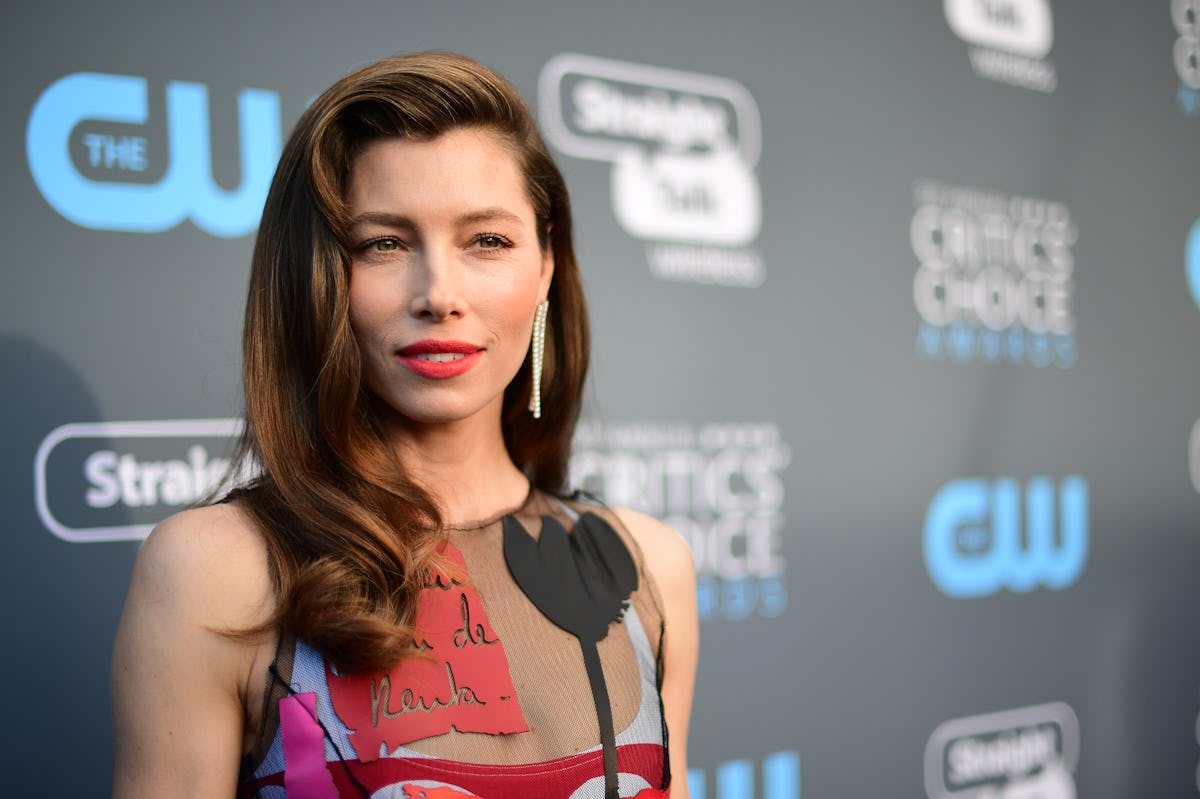 Jessica Biel Just Got Hygge Hair & She Looks Like A Literal Angel From (7th) Heaven
Matt Winkelmeyer/Getty Images Entertainment/Getty Images
Justin Timberlake might have been making headlines with his Super Bowl halftime show performance this past weekend, but now his wife is stealing the spotlight for something much more important: her hair. Photos of Jessica Biel's blonde hair have surfaced and prove that Biel is an actual angel sent down to Earth from (7th) Heaven.
Jessica Biel is a living, breathing goddess who can seriously rock any look thanks to her effortless aesthetic. She's proved time and time again that her good genetics allow her to sport any cut, color, and style on the red carpet, from platinum blonde to dark brunette. Magically, all tones seem to support her chiseled bone structure and gorgeous green eyes (which is just rude and unfair when you think about it).
Most recently on the red carpet for the 2018 Critics Choice Awards, Biel sported honey-tinged brunette locks that were deeper at the root and lightened toward the ends of the hair. Before that, Biel rocked a similar color (and let her naturally grey roots peep through) at the 2018 Golden Globes. Though Jessica Biel wears brunette tones so well, she's decided to give up her dark side and follow the light. Just like Starbucks, Jessica Biel has officially gone bronde. Yes, bronde is a thing.
Together, colorist Tracey Cunningham and hair stylist Adir Abergel crafted Biel's new look. Soft, bright blonde highlights thread through Biel's hair and culminate in a cloud of white gold gorgeousness at the tips. The variety of blonde hues add dimension to her hair, giving it depth and fullness. Her root is still darker, though, but drastically lighter in comparison to her last 'do. The ash blonde root pops her emerald eyes and the super bright ends of her hair soften her jawline. Overall, her complexion looks brighter and much more glowy with this new color.
Biel publicly debuted her new hair on Feb. 6 at the 2018 Makers Conference in Los Angeles. She absolutely radiated sun beams from the stage with her gorgeous golden locks. Seriously, the ends of her hair look like they're lit from within.
In some post-panel pictures, her hair appears to be even lighter. The soft ash hue makes her skin look so amazing. The blonde highlights shine so brightly, they nearly create a glowing halo around her head.
In other light, her hair appears to be quite a few shades darker, like in this photo from the step and repeat on the same day. Seriously, those are some dramatically magical highlights if they can transform under flash that much.
In this shot, her hair appears to be more honey-colored. Her skin, however, looks just as flawless and luminous though. Dare we say Jessica Biel has just jumped on the hygge hair trend? It certainly looks like it.
In case your unaware, hygge hair has recently taken the beauty world by storm. The look is characterized by color that is warm and cozy, reminiscent of the Danish lifestyle concept. Hygge isn't one particular color, but more of an overall feeling of warm glow quite often applied with balayage or a similar technique.
I myself recently tried out hygge hair and I can say from personal experience, hygge hair will give both your hair and complexion a beautiful glow. Seriously, my hair looks like it's lit from within sometimes.
Whether Biel and her stylists intentionally jumped on the hygge hair trend or not, there's no denying this new light blonde hue looks dazzling on her. Yes, she can really rock anything, but this new color is particularly magical. She definitely serves some serious hair inspo moving into the spring season.