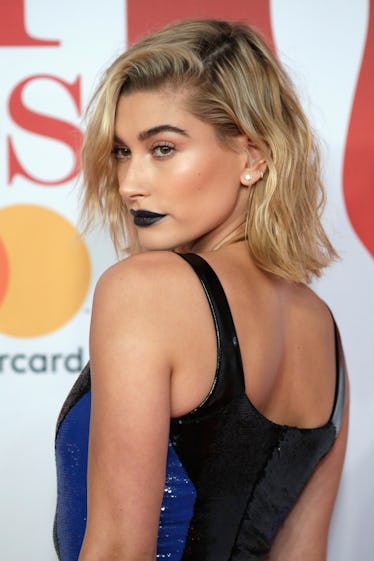 Hailey Baldwin Got New Hair & Twitter Can't Stop Comparing Her To This '80s Icon
John Phillips/Getty Images Entertainment/Getty Images
Hollywood it-girls love a good hair change, whether it's a permanent dye job or a temporary wig for a night. Hailey Baldwin is among that crowd and just debuted a new style atop her head, and it actually looked a little familiar to me. Photos of Hailey Baldwin's new hair make her look just like a certain '80s music icon.
Baldwin is part of one of the most well-known It Girl squads (she hangs with Kendall Jenner and Gigi and Bella Hadid) and she comes from one of the most famous Hollywood families (Alec Baldwin is her uncle), but she's successful in her own rite, too. Baldwin stars in many of her own ad campaigns, and walks in high end runway shows from New York to Paris.
Despite Baldwin's solo achievements, when she stepped out for a London Fashion Week event last night, I couldn't help but think of another famous beauty, '80s rock star Debbie Harry, from the aptly named group, Blondie. Other celebrities have tried out this look: Taylor Swift's platinum blonde hair was an homage to Harry, and Emma Stone as a blonde resembled the musician, too. Baldwin's new do is a slightly longer version of the style, but features the iconic platinum blonde waves and feathery bangs.
Baldwin debuted her hair while attending the Naked Heart Foundation's Fabulous Fund Fair where she manned Fendi's booth at the carnival-themed event. She wore a skin-tight, sheer Fendi logo-printed dress, but nothing could take away from her blindingly blonde new hair.
Baldwin's hair stylist, Jennifer Yepez, posted this photo, "FENDI Anyone?@haileybaldwin 🍭 How hot was the Fendi booth last night at Fabulous Fund Fair in london 🔥 Styled by @stylememaeve Makeup @makeupvincent Nails @robbietomkins Hair color by @auracolorist Hair by #jenniferyepez 💋 #haileybaldwin #fundfair #london #lfw #platinumblonde #fendi."
Yepez also posted this selfie that Baldwin took, "New lewk @haileybaldwin💎 💎 Platinum vibes today 💎 💎 Styled by @stylememaeve Makeup @makeupvincent Hair #jenniferyepez using @helenawigs Nails @robbietomkins Hair color by @auracolorist 💎 #haileybaldwin #platinumblonde #kerastase #london #lfw #donatellavibes."
Yepez cleared things up about Hailey's new do by tagging celebrity-loved wig brand Helena Wigs. Baldwin didn't suddenly grow six inches worth of hair overnight, but is wearing a fab wig to the event.
Yepez also hinted that she used Kerastase products to get Baldwin's voluminous waves, I bet Kerastase Densifique Densimorphose Mousse ($42; kerastase.com) had something to do with it.
Baldwin's makeup artist for the night, Vincent Oquendo, showed off her beauty look, "Black out #haileybaldwin 🦇 hair by @jennifer_yepez nails by @robbietomkins #makeupbyme using @iconic.london #iconiclondon." Oquendo used Iconic London Illuminator in Shine ($46; iconiclondon.com) for Baldwin's highlighted cheekbones and Iconic London Pigment Foundation Stick in shades 2.2 and 3 ($38; iconiclondon.com). Oquendo doesn't specify what he used to get Baldwin's smokey eye look but Iconic London'd Day To Slay Eyeshadow Palette ($68; iconiclondon.com) should get the job done.
Baldwin's nail artist, Robbie Tomkins, used Artistic Nail Design polish, and you can get a color similar to Baldwin's with Colour Revolution in She's A Spark Plug ($5; nailtechsupply.com).
When fans caught wind of Baldwin's new hair, they rightfully went crazy for it. One fan's heart could hardly take it, "Hails 💗💗💗💗💗." The same user also wrote that Baldwin was "so beautiful 💗" and a "Queen 👑."
No words necessary here, "😍 😍 😍 😍."
"I'm sooo in love with the new hair ⚡️ @haileybaldwin your beauty makes me wanna cry 😭 😍," proclaimed one user.
"Hailey Baldwin now looks exactly like this '80s hair icon," wrote one user, who was definitely referring to Harry.
Another major fangirl moment, "Absolutely gorgeous, I'm in love with your new hair. You're the most beautiful woman i've ever seen 😍 🕊 @haileybaldwin."
"I'm in love with this outfit this hair and that face MY GOD I AM VERY PASSIONATE FOR YOU @haileybaldwin," passionate AF.
"Her hair, her side profile, her lil cute nose I AM FUCKING SHOOK @haileybaldwin," this fan saw no flaws.