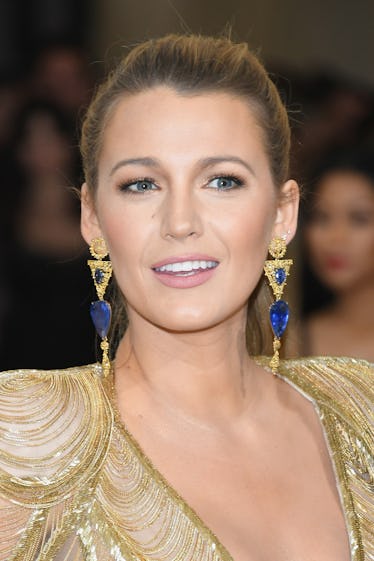 Blake Lively Got A Gorgeous New Hairstyle & It's The Perfect Look To Rock This Fall
Dia Dipasupil/Getty Images Entertainment/Getty Images
Blake Lively can do no wrong. Not only does she have a seemingly perfect marriage, she is also completely flawless when she's walking on the red carpet. Lively knows a thing or two about style... especially hairstyles. Everyone knows the importance of a polished haircut. Like Lady Gaga once sang, "I am my hair." So, what fashion trend is Lively rocking now? It's called the lob, and we lob it. These photos of Blake Lively's new hairstyle prove she is America's fashion goddess, and we are here for it! Get it, Lively.
Blake Lively walked the All I See Is You red carpet on Oct. 11, 2017, where she rocked her new, much shorter hairdo.
Lively looked absolutely beautiful, wearing a very old-Hollywood type of outfit with an all-white ensemble and some gold heels. This woman knows how to bring out massive amounts of Hollywood glamour, that's for sure. Although her gorgeous outfit brought much attention, it was all 'bout that hair, 'bout that hair. It may appear Lively chopped her golden locks off for this look, but nope! Her hairstylist gave her the lovely lob look without cutting off a single strand. If you look closely, you can see the hair rolled upward, creating a different, fresh look for Lively.
That's the power of movie-making magic! It's also an easy way to go from long hair to short hair overnight. Could this new 'do be inspired by the role in her new film, All I See Is You? In the movie, Lively plays a woman who regains her sight after being blind since childhood, and sees her husband for the first time ever. The film sounds intense, y'all. Lively talks about the new film in an interview from Vanity Fair. She tells the publication, "It's the performance that I'm most proud of."
Here's an interesting behind-the-scenes fact from the film. In a weird, fateful coincidence, the on-set lens technician, who worked closely with Lively, had an eye injury similar to Lively's character in the film. So, Lively says the crew member became a helpful resource for the actress. Lively said,
I was really acting for her. [I would ask] is this the accurate reaction? How do you feel? If I would make her laugh, or if I would make her cry ... then I knew I was doing my job.
Woah. How cool is that? Lively is known for serious roles, such as The Town, The Shallows, and The Age of Adeline. All of which, might I add, are really good movies. Her husband, Ryan Reynolds, isn't half bad, either. Reynolds is always caught saying the sweetest things about Lively.
Humans of New York took a photo of Reynolds and Lively during the Met Gala in 2017. In the caption, Reynolds explained why he loves Lively. He said,
She always responds with empathy. She meets anger with empathy. She meets hate with empathy. She'll take the time to imagine what happened to a person when they were five or six years old. And she's made me a more empathetic person. I had a very fractured relationship with my father. Before he died, she made me remember things I didn't want to remember. She made me remember the good times.
He. Is. The. Sweetest.
So, will Lively's lob hairstyle be the new look for Fall 2017? I certainly hope so, because it's perfection. Fans love the lob look! Fans love her.
Do you like Blake Lively's new 'do?
Check out the entire Gen Why series and other videos on Facebook and the Bustle app across Apple TV, Roku, and Amazon FireTV.