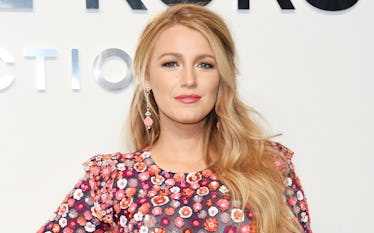 Blake Lively Has Short Black Hair In Her New Movie & She Looks Unrecognizable
Blake Lively looks so freaking different with her new hair for the movie The Rhythm Section. The actress is starring in the thriller about a woman who's looking for revenge after her family is killed, and I don't know about you guys, but I'm freaking pumped to see Blake Lively in an action movie. But we're all so used to her long blonde hair, as it's basically its own celestial being in most of her movies and on Gossip Girl, so to see photos of Blake Lively in The Rhythm Section with a short black pixie cut is jarring AF. Seeing as her hair is one of her signatures, it's most likely that she's just wearing a wig and didn't actually cut her hair. But homegirl is still committed to this role and she's going all in with this look, and I'm here for it.
According to IMDb, The Rhythm Section is about a woman who "seeks revenge against those who orchestrated a plane crash that killed her family." It's based on a book of the same name that was originally published in 1999, and it's finally get its own film adaptation.
Lively tweeted a photo of herself with the black locks, and she looks soooo different. She said the look is her "spirit animal," and honestly, it's mine too.
The Rhythm Section director and cinematographer, Reed Morano, also posted the same picture because no one can get enough.
If you don't know who Reed Morano is, you should because she's the sh*t and you've definitely seen her work before. She recently won an Emmy for Outstanding Director for a Drama Series for her work on the pilot episode of The Handmaid's Tale titled "Offred," and she was one of the cinematographers who worked on Beyoncé's Lemonade. Yeah, Beyoncé trusts her. That's almost as impressive as winning an Emmy. Morano was specifically the cinematographer for the "Sandcastles" section of Lemonade. Seeing as that music video rips my heart out every time I watch it, I'd say Morano's work is effective. And now, she's directing Blake Lively! What a time, fam. What a time. (Also, please be sure to check out her Instagram because her aesthetic is everything.)
Photos of Blake Lively filming The Rhythm Section prove this character is worlds different from ones she's played in the past. Give me Revenge Blake!!!
And it's not just black hair she's sporting in this movie! Nope, Lively was also seen in a (slightly longer, but still short) auburn wig while filming in Dublin in November.
Fans couldn't keep their sh*t together seeing Lively looking so different, but they absolutely love it.
Lively plays a woman named Stephanie Patrick in the film (Jude Law is costarring), and Patrick, according to The Hollywood Reporter, ""[I]s on a path of self-destruction after the death of her family in an airplane crash, a flight that she was meant to be on." The description continues,
After discovering that the crash was not an accident, [Stephanie's] anger awakens a new sense of purpose and she rises to uncover the truth by adopting the identity of an assassin to track down those responsible. The new, and lethal, Stephanie Patrick is on a mission to fill the void between what she knows and what she is told.
Yeah, safe to say this is going to be the most badass Blake Lively yet. In a segment of Vanity Fair's The Limelight podcast, Lively explained why she took on the role, how she's struggled with feeling the need to make her characters "likable" so they're more digestible for men, and how The Rhythm Section is basically tossing that impossible standard out the window. She said,
I play a heroin-addicted prostitute. Going back to the likable thing ... you always see that thing in movies where if a woman is a prostitute or a sex worker, you always think, 'I don't want the guys to be grossed out by her,' We have to still make her kind of sexy ... tragically sexy, but you know, music video. If you drive down skid row that's not what you see. That's not the truth. So it's really important to us to show a woman who society has written off, and society has forgotten about.
Girl, yes. Love all of this. Give me more of this. The Rhythm Section is set to release in 2019.
Check out the entire Gen Why series and other videos on Facebook and the Bustle app across Apple TV, Roku, and Amazon Fire TV.