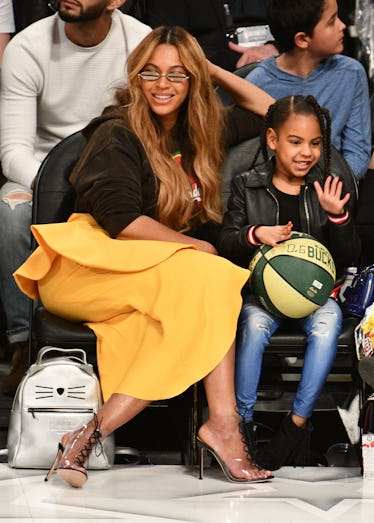 Beyoncé Just Rocked One Of Blue Ivy's Luxe Accessories & I'm Borrowing It Next
Allen Berezovsky/Getty Images Entertainment/Getty Images
Beyoncé has never been one to shy away from making a sartorial statement. In fact, the outfits she chooses for big events or artistic projects are often selected specifically because of the cultural or social significance they hold. While photos of Beyoncé's gala look from this past weekend might not immediately reveal the message behind her golden masterpiece of a dress, once you learn about the inspiration behind it, it'll take on a whole new meaning.
On Saturday, Tina Knowles Lawson (AKA Beyoncé mom) and her husband, Richard Lawson, hosted the second annual Wearable Art Gala benefitting Where Art Can Occur (WACO), a nonprofit dedicated to providing arts mentorship programs to teens. Beyoncé was honored for her humanitarian work at the gala, as was her mother in-law, Gloria Carter. Naturally, Jay-Z and Blue Ivy were also in attendance to support all three of their family members, making it an insanely star-studded affair.
The theme of the night was "From WACO to Wakanda," and in true Queen style, Beyoncé took it to a whole other level with her look. Or looks, I should say, as she changed into a second ensemble halfway through the evening. To arrive, she wore a custom gown by design house Falguni Shane Peacock that featured a nude mesh bodice onto which golden beads and embellishments had been stitched. A voluminous train of crinkly gold was carried behind her as she walked. Dramatic, fierce, and very Beyoncé, the gown was truly a sartorial piece de resistance — but the inspiration behind it was even more beautiful.
As explained by designers Falguni and Shane Peackock in an interview with WWD, "We wanted to create an art statement, taking inspiration from the Nubian warrior queen [Amanishakheto]. We felt it was the perfect inspiration when designing for such a strong woman like Beyoncé." Having worked with the artist on the black gown she wore in her Formation video, the duo are in-tune with Beyoncé's stylistic preferences.
"The metallic cutouts are placed strategically to mimic the shape of armor, as worn by the Nubian armies," they continued. "The elaborate gold train was added to create a 3-D effect that emphasized royalty. Between the metallic cutouts to the gold dramatic train, we attained an artistic statement while respecting the Nubian inspiration."
Indeed, Beyoncé looked regal and powerful and like she could have stepped right out of Wakanda. And if Beyoncé was Queen Ramonda, Blue Ivy was Princess Shuri. The 6-year-old arrived in an equally arresting gold look, which featured an empire waistline and full skirt sprouting with strips of metallic material. To top off the look she wore a gold headpiece that mimicked the shape of a short bob, though she had initially planned on wearing a much more subtle creation in her hair.
As it turns out, her original headpiece — a twisted gold halo designed by M'Shari Whaley of Uniquely Wired M — ended up topping Beyoncé's crown for the evening!
As revealed in an Instagram post by the designer, "We Designed this for Blue Ivy, but So grateful Bey loved it and Rocked it."
For Bey's second look, in which she accepted her award, she opted for a yellow and gold dress featuring a shorter front hemline, knotted silky train, and billowy balloon sleeves. The wiry headpiece remained a staple accessory throughout the night, while she changed out of her fringy earrings into a pair of elegant gold disks.
As if seeing Beyoncé and Blue Ivy in gold-plated form wasn't delightful enough, Blue Ivy took it to a whole new level when she bid on a piece of art during the evening's auction event. Clearly thrilled to be participating in such an impressive purchase, she excitedly waved her paddle to indicate she would be bidding $19,000 on a painting of a young Sidney Poitier. When the auctioneer asked the crowd if anyone would like to one-up her bid, Blue again raised her hand and giggled. "Baby, you don't need to bid again; you don't need to bid against yourself!" the auctioneer responded. Coolest family outing ever? I think so.
Now I'm just wondering if Blue would let me borrow that amazing headpiece next...