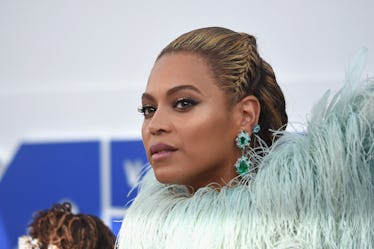 Beyoncé Reveals Her Sizzling Look From Serena Williams' Wedding & We're Floored
Jamie McCarthy/Getty Images Entertainment/Getty Images
Something as insignificant as Queen Bey sneezing is enough to send fans into a complete tailspin, so imagine the buzz that erupted when the pop sensation gifted her 108 million Instagram followers with behind-the-scenes footage. Photos of Beyoncé at Serena Williams' wedding just made rounds on the internet, and naturally, no one was able to keep their cool. Let's just hope the singer's hot ensemble didn't take away from her friend's big day.
Bey's asymmetrical blue-green dress was heavy on the sexy... and the cleavage. She rocked the look with the help of sparkly accessories and high stilettos. To really up the ante, the singer posted several photos on her Instagram account, swinging her long hair back and forth, which caused an onslaught of emotions and heart emojis from fans (not that any of us are surprised by the strong reaction).
The nuptials took place at the Contemporary Arts Center of New Orleans on Thursday, Nov. 16, and reportedly embraced a Beauty and the Beast theme. Serena Williams and now-husband Alexis Ohanian clearly know the way to people's hearts: Beyoncé, NOLA, and Disney, a lovely combination that makes for a perfect event. Judging from these minor details, it sounds as if this ceremony was the wedding of the year. The tennis superstar stunned in a custom-made ballgown dress that was straight out of a fairytale... and her BFF didn't look half bad, either.
I don't think you're ready for this jelly. Behold: Queen Bey slaying in her wedding guest outfit.
Taking a cue from Bey herself, chances are you're going to rethink what you're wearing to your college roomie's upcoming ceremony. As with anything Beyoncé does, an onslaught of reactions and admiration followed. The praise poured in for her sexy look (as we expected it would).
Some people, however, were not pleased with the fact that everyone decided to talk about Beyoncé instead of the bride.
The dress wasn't the only talk of the night. It was the first time Beyoncé and Kim Kardashian reunited following feuds from their husbands, JAY-Z and Kanye West. Didn't hear about that debacle? Well, let's get you up to speed, shall we?
Last year, Kanye decided to leave one of his California performances early, but not before throwing some shade at Queen Bey and her husband. In a video posted to Twitter, you can hear the rapper saying, "Beyoncé, I was hurt ... 'cause I heard that you said you wouldn't perform unless you won Video of the Year over me and over 'Hotline Bling.'" Supposedly, the rapper accused Bey of not being willing to perform at the MTA VMAs unless "Formation" won for Video of the Year (which it did). But don't worry, West decided to smooth things over by saying, "In my opinion — now don't go trying to diss Beyoncé — she is great. Taylor Swift is great." Oh good, Kanye. Keep going with that one.
Naturally, West didn't get the final word. JAY-Z went on TIDAL's Rap Radar podcast and discussed the issue. He let it all out and said,
You got hurt, because this guy was talking about you on a stage. But what really hurt me, you can't bring my kid or my wife into it. Like, Kanye is my little brother. He's talked about me a hundred times. He even made a song called 'Big Brother.' We've gotten past bigger issues, but you brought my family into it, now it's a problem.
Phew, talk about a doozy. But let's get back to what's important: Everyone appeared to have a great time at Willams' wedding, and all of the guests, Beyoncé included (and of course, the bride) looked great. Congrats, you two. Let's see more pictures of the big day.
Check out the entire Gen Why series and other videos on Facebook and the Bustle app across Apple TV, Roku, and Amazon Fire TV.