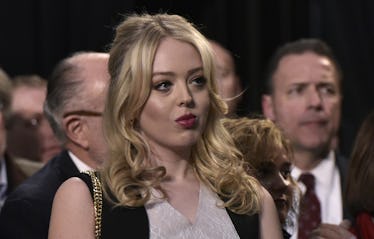 Tiffany Trump Took A Study Break To Hang Out For Her Mom's Birthday & It's So Relatable
MANDEL NGAN/AFP/Getty Images
Tiffany Trump is an riddle wrapped in a mystery wrapped in a lot of blonde hair. The most enigmatic of the adult Trumps and the younger of the two Trump (half) sisters doesn't have nearly the social media presence of her adult sibs, much less her prolifically tweeting dad, President Donald Trump. But that's not to say that the younger Trump daughter never appears online. On Oct. 29, her mother Marla Maples posted an Instagram photo of Tiffany Trump with her mom, as the two apparently hung out for Maples' birthday.
Maples, who turned 54 years old on Oct. 27, posted a long shot of the mother and daughter standing together on a green field in front of a small waterfall. The image was overlaid with text and emojis — including, appropriately enough, a jack-o-lantern, a birthday cake, and a cut-off image of the two-women-and-a-heart emoji. "Tiffany Treats," the caption laid over the photo read. "Thank you for time off of studying for mama." The text also tagged Trump's own Instagram handle, @tiffanytrump.
Politics may come and go, but mothers casually and passive aggressively guilting their adult daughters for not spending enough time together is eternal. As Marla Maples evidently knows.
In the pic, Maples is rocking a trendy-yet-casual gray leather jacket and dark jeans with a pink scarf, her sunglasses tucked on top of her head with her hip slung forward and her shoulder pushed back — an entirely appropriate outfit and pose for a former actress and model who clearly hasn't forgotten how to make a photo pop. Tiffany, for her part, is monochromatically rocking a gray jacket, a gray shirt, dark gray/black pants, and a smile that says "mom I love you but I'm so very tired right now."
It's an expression familiar to any college student who dropped everything to run home to mom for a weekend. Trump is a first-year law student at Georgetown University's law program, the same school where older half-brother Eric Trump got his degree from the McDonough School of Business back in 2006. The 24-year-old, who just had her own birthday earlier this month on Oct. 13, previously studied sociology and urban studies at the University of Pennsylvania.
Maples posted a sweet Insta for her daughter's birthday, too — back on Oct. 20, Maples posted a classic TBT of herself and the then-littlest Trump chilling in the pool at her daughter's first birthday party, in 1994. "1 week ago, 24yrs ago this little girl was born," Maples wrote in the caption. "Oh how I wish I could still hold her that close… Yes I'm that mommy💕💜👱🏼‍♀️🦄 🐬😘 I love my girl so much! And so proud of all your accomplishments, but most important of all is the love you share💕💜"
Weirdly, it was Trump's only social media birthday shoutout — from her dad, big sis Ivanka Trump, and stepmother Melania Trump, there was pretty much radio silence. And that despite the fact that her father and stepmom reportedly held a surprise birthday party for Ivanka, who turns 35 on Oct. 30. While I guess they could have called or FaceTimed or something... well, I suspect they've had other things on their minds these past few weeks.
It's OK, Tiff. Sometimes it's better to be the quietest child, particularly when there are discussions about whether or not your sibs committed treason.
Though Trump didn't post her own social media message to her mother, if I know anything about moms, I'm sure her presence for a weekend is all the celebration her mother needs. With Trump's own birthday having passed so recently, there's even the chance that it was a double birthday celebration. Happy birthday to both Maples and Trump — sometimes, the best gift is an emoji-filled photo op.