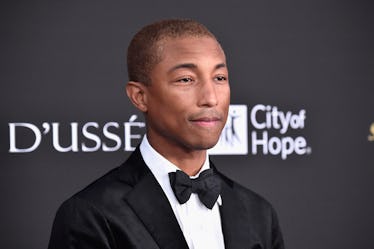 Pharrell Isn't "Happy" With Trump Playing His Music At A Rally After Mass Synagogue Shooting
Frazer Harrison/Getty Images Entertainment/Getty Images
Hours after a deadly synagogue shooting left 11 dead and countless more injured in Pittsburgh on Saturday, Oct. 27, President Trump decided to conclude a rally in Indiana with Pharrell Williams' hit track "Happy," aka the upbeat song where the main refrain is "Because I'm happy." Given the tragic circumstances of the day, it wasn't the most sensitive soundtrack in wake of the mass shooting, and Pharrell wasn't having any of it. In a fiery cease-and-desist letter, Pharrell Williams threatened to sue Trump for playing "Happy" at the event and also told the president he could never use his music again. Elite Daily reached out to the White House and representatives for Williams for comment, but did not immediately hear back.
In a letter sent Monday by Williams' lawyer Howard King, the musician chastised the president for his choice of song as communities around the country were grieving the hateful attack at the Tree Of Life Synagogue, and his feelings are so relatable.
"On the day of the mass murder of 11 human beings at the hands of a deranged 'nationalist,' you played [Williams'] song 'Happy' to a crowd at a political event," the letter began, according to CNN. "There was nothing 'happy' about the tragedy inflicted upon our country on Saturday, and no permission was granted for your use of this song for this purpose. Pharrell has not, and will not, grant you permission to publicly perform or otherwise broadcast or disseminate any of his music."
King concluded his letter with a warning: "Demand is hereby made that you cease and desist from any further unauthorized use of Pharrell Williams' music," he wrote, according to Slate.
Trump's decision to play a decidedly cheery song at the rally wasn't his only perceived misstep in wake of the mass shooting, as he was also widely criticized for joking about his "bad hair day" just hours after a gunman attacked the synagogue. While addressing the crowd at the Future Farmers of American convention, Trump claimed that his "bad hair day" was due to having to stand in the rain while fielding reporters' questions about the shooting, according to Newsweek. Elite Daily previously reached out to the White House to inquire about further comment on President Trump's remarks, but did not hear back at the time of publication.
He reportedly told the crowd, "I was standing under the wing of Air Force One doing a news conference earlier this morning, a very unfortunate news conference, and the wind was blowing and the rain and I was soaking wet and that's what I ended up with today."
"And I said but at least you know it's mine," he continued, adding that he'd thought about canceling the event altogether — not because of the deadly shooting, but because of his wet hair.
Needless to say, the aftermath of one of the most deadly shootings in recent Jewish-American history is definitely not the time to be making jokes about your wet hair or playing a song about how happy you are, and it looks like Trump's actions are definitely ruffling a few feathers. Pharrell Williams joins a long list of musicians, including The Rolling Stones, The O'Jays, Adele, Queen, Aerosmith, R.E.M., Prince, and Neil Young who've all spoken out after the president used their music without permission, and he might not be the last.