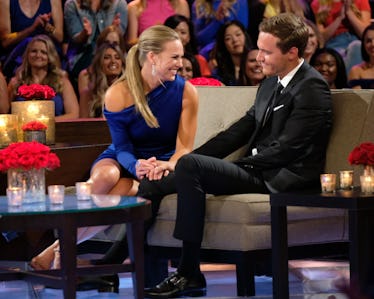 Peter & Hannah's Reunion On 'The Bachelorette' Finale Was Kinda Awkward
ABC
Hannah's had a pretty tearful season of The Bachelorette, but there were probably no more tears this season than when she said goodbye to Peter. Both of them were heartbroken over the breakup, and Peter definitely needed a little bit of closure about it. Luckily, he and Hannah were able to talk during the live finale. He got some answers, still, Peter and Hannah's reunion on The Bachelorette finale had its fair share of awkward moments.
During Part 1 of the two-night finale on July 29, Peter had the chance to talk to Hannah about what went wrong in their relationship. Hannah was clear and re-iterated what she told him when she sent him home: There was nothing wrong with their relationship. He was wonderful the entire time they were together, but ultimately, he was up against both Jed and Tyler, and her relationships with them were a little bit deeper.
"It's so hard in this position because you don't know if you're making the right decisions," she told him. "I was scared I was letting go of the perfect guy."
At that, someone in the live studio audience yelled out, "You did!" Everyone laughed, obviously. They weren't wrong! Peter was strong throughout the entire season, treating Hannah like a queen the entire time, like when he took her on a romantic airplane date. Who wouldn't swoon? But at the end of the day, her connections with Tyler and Jed were stronger, and there was not much he could do about it.
During their reunion, Hannah also mentioned that she wished Peter would've expressed his feelings for her sooner in their relationship, instead of near the very end. From the beginning of their relationship, Peter was honest with her about how he's pretty slow to open up his heart, but at the end of the day, it seemed to be a little too slow for Hannah. There was too much at stake, and Hannah had to say goodbye.
Peter and Hannah's reunion definitely started on a serious note, but it wasn't all doom and gloom. After Chris Harrison told the former couple that, because of them, no one in Bachelor Nation would ever be able to look at a windmill the same way ever again (fans will recall that Hannah and Peter had their overnight date in a windmill, and she later told Luke P. that she "f*cked in a windmill, twice," bringing the audience to the obvious conclusion that she had sex with Peter), Hannah said she was "a little dishonest about something. I did say there's something that Peter and I did twice — it was actually four times."
Welp! They did it four times folks, and Bachelor Nation was here for it. Peter's parents, who were in the audience, proudly beamed and gave their son a hardy round of applause. The audience went wild. It was A Whole Thing. Twitter also had plenty to say, with hilarious reactions that essentially reflect what the entirety of Bachelor Nation is feeling right now: Yes, girl!
Only time will tell which one of her final two men will get the final rose, but we're getting close, folks! Season 15 of The Bachelorette concludes with the second part of the finale at 8 p.m. ET on Tuesday, July 30 on ABC.