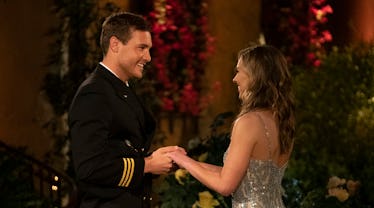 Peter & Hannah B.'s Body Language On 'The Bachelorette' Makes Him A Frontrunner
This season of The Bachelorette has offered us some real highs and lows. I am, of course, talking about Peter and Luke P., respectively. Listen, I have a lot of feelings about Luke's "your body is a temple" chauvinistic, gaslighting bro-down in Episode 7, but instead, I want to keep it positive, which means focusing instead on America's (and Hannah's, for that matter) new boyfriend, the wonderful Pilot Pete. Swoon. Because I'm rooting so hard for this romance, I just had to know if Peter and Hannah B.'s body language on The Bachelorette could confirm if what I think I'm seeing between them is really happening. So, I reached out to Traci Brown, body language expert and author of Persuasion Point: Body Language and Speech for Influence, for her take on the couple.
I showed Brown a series of images of the two in a few of their, ahem, more intimate and pivotal moments, to see if there is a real chemistry between them — and possibly even something deeper in their connection. While what Brown sees in their dynamic is a bit of a mixed bag, there is enough here to keep hope alive that Peter will be walking away with the final rose and Hannah's heart.