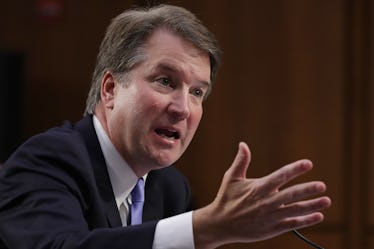 Obama's Photographer Didn't Hold Back About The Kavanaugh Allegations On Instagram
Chip Somodevilla/Getty Images News/Getty Images
President Barack Obama's White House photographer, Pete Souza, has become Internet famous in the past couple of years for trolling President Donald Trump and his cabinet. While Souza's usual M.O. is some cleverly thrown shade, he's changing it up a little. Pete Souza's Instagram about the Brett Kavanaugh allegations didn't hold back this time — no shade about it.
In a letter shared with members of Congress which broke on Sept. 14, California professor Christine Blasey Ford accused Kavanaugh of attempting to sexually assault her when they were in high school in the 1980s. Kavanaugh has denied the allegations, saying that "this is a completely false allegation", and representatives for the judge did not immediately return Elite Daily's request for additional comment. But after Ford was invited to testify to the Senate Judiciary Committee on Sept. 24 about her allegations, Ford, through her lawyers, said that she wants the Federal Bureau of Investigation (FBI) to conduct a full investigation into the matter first, according to ABC News.
On Wednesday, Sept. 19, Souza stood with Ford. In an Instagram post, he asked that the Republican members of the judiciary committee and Trump — or "46 minus 1" as he calls him — honor Ford's request and conduct a full investigation into the allegations against Kavanaugh. Souza posted a picture of Obama, Vice President Joe Biden, and Obama's 2016 SCOTUS pick Judge Merrick Garland — who was blocked from a hearing by Republican leaders — in the Oval Office. In the caption, Souza countered a comment from Trump in which he said that it was not the FBI's "thing" to conduct investigations into allegations like those against Kavanaugh. "The 'I' in FBI stands for 'investigation," he wrote.
Souza wrote,
There is now a credible rape allegation against your Court nominee. For a lifetime appointment. Whose nomination has been open only for 71 days. And your plan is to rush a vote on his nomination without an FBI investigation into a sexual assault he may have committed? Because 46 minus 1 says about the FBI, 'this is not their thing.' The 'I' in FBI stands for 'investigation.'
Elite Daily reached out to the White House for comment on the post, but did not immediately hear back.
Souza then asked the committee members to explain why a "White House photographer" who has "never committed a crime" went through "two FBI investigations," but there is resistance to ordering another investigation of a SCOTUS nominee in response to what he called "credible" allegations. Souza wrote,
Even I (and everyone that works at the White House) had two FBI investigations into my background as the White House photographer, though I had never committed a crime. So you don't want the FBI to investigate someone for the Supreme Court about a credible attempted rape allegation? Please explain.
Judiciary Committee Chairman Chuck Grassley of Iowa gave Ford a deadline of 10 a.m. Friday, Sept. 21 to say whether she will testify about Kavanaugh during a hearing on Monday, Sept. 24 — regardless of whether or not the FBI conducts an investigation, according to CNN. If Ford chooses not to testify, the hearing will proceed regardless, according to Grassley.
Since coming forward about her allegations, Ford has been subjected to death threats and her family has been driven from their home, Ford's attorneys explained in their letter to Grassley on Wednesday, Sept. 19. They also criticized Grassley for supposedly wanting Ford to "testify at the same table as Judge Kavanaugh" and be interrogated by senators who have already decided that Ford is "'mistaken' and 'mixed up'" about the events of her alleged assault. (Grassley has since said that Ford may have the option to testify privately.) Ford's attorneys argued that the first step should be a "full investigation by law enforcement officials." The letter read,
A full investigation by law enforcement officials will ensure that the crucial facts and witnesses in this matter are assessed in a non-partisan manner, and that the Committee is fully informed before conducting any hearing or making any decisions.
So will Ford testify? And will there be an FBI investigation into Kavanaugh? Maybe Souza's acronym lesson can help both those along.