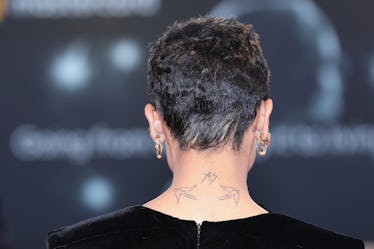 A Poll Reveals Peoples' Biggest Tattoo Regrets & They're Actually Interesting AF
Vittorio Zunino Celotto/Getty Images Entertainment/Getty Images
When it comes to getting something inked onto your body permanently, there are certain things you might want to avoid... especially after reading over a new poll revealing peoples' biggest tattoo regrets. Some of the answers are pretty obvious, while others are quite surprising, so if you're thinking of going under the needle anytime soon, hopefully this information will help inform your decision for the better. (As someone who has gone through tattoo regret time and time again, I wish I'd had this at my disposal earlier!)
As reported by Marie Claire UK, The University of Portsmouth joined forces with Casino.org to ask ink enthusiasts about what they perceive to be some of their worst tattoo decisions. A thousand people across the United Kingdom were polled for the project, and when it came down to the most common tattoo regret, 31.34 percent of men and 24.33 percent of women wish they hadn't gotten a person's name on them. Is this surprising? No. But it goes to show that people are still emblazoning their partner or BFF's name on their skin against better judgement and then paying for it later. Unfortunately, relationships can be fleeting — show people you love them by treating them as such, not by giving them a few inches of your skin!
The following statistic was the one that I found most interesting and surprising. In regard to the next most regretted tattoo by gender, 12.81 percent of men said it was their tribal tattoos, while 15.95% of women named their star constellation ink. Who knew those designs were even popular enough to show up on the regret scale?!
Oof. We probably all know or have heard of someone who opted for an Asian symbol as a tattoo, only to find out what its true meaning was after it was permanently etched into their skin. As it turns out, it's a pretty common mistake, and therefore, a pretty common regret: 12.53 percent of men and 12.64 percent of women wish they hadn't made the choice.
In short, make sure you get things that you're familiar with and that you know will mean an immense amount to you now and in another 50 years. Over a quarter of the women polled said they regretted their tattoos because they got bored of their design. Of the entire number polled, nearly one fourth of people said they regretted their tattoo because it no longer held meaning. Yikes!
Placement is also vitally important when you're deciding on new ink. As someone who has gotten a finger tattoo and a tattoo on the ribcage right where a bra hits, I can tell you neither are good locations if you want your ink to stay well preserved and non-blurry. The poll reveals that 15.17 percent of women most regretted their lower back tattoos, while one fifth of men wish they hadn't chosen to house their ink on their forearm. Both genders agreed that shoulders, chest and upper back were also less favorite spots.
Of course, tattoos are super personal decisions and are ultimately up to each individual. Avoid stars and names, and you should be just fine.