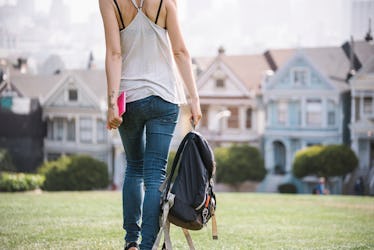 People Who Travel With A Backpack & Nothing Else Have These 10 Things In Common
Ever since you set up a fresh new backpack on the first day of school, you were probably in total bliss with its convenience and multiple uses. You love your backpack so much that you never leave it behind when it comes to traveling. You stuff whatever you want in it, and are all set to embrace the adventure. To you, backpacks don't get enough credit, and you're not alone, because people who travel with a backpack and nothing else have that mindset and so many other things in common.
Just think about it — you can strap a huge chunk of your life to your back and explore new places. Literally, your stuff has got your back. Sure, a huge suitcase might seem appealing at first, but there are so many tugging thoughts that are included in packing one. Did I pack this? Will this fit? None of those questions haunt backpackers, because they've got this travel thing down to a science.
You praise your backpack for its simplicity, but also for how easily it accompanies your wanderlust. It keeps all of your things in one place, and if there are valuables in there, it's never too far away from you. Aside from being accustomed to conveniently getting around, people who travel with a backpack have a few, if not all, of these 10 other things in common.