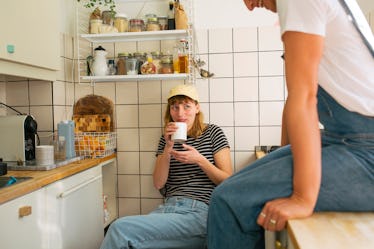 People Who Hate Small Talk Wish They Didn't Have To Deal With These 7 Daily Struggles
Just because you can't stand small talk doesn't mean you're not a good person. After all, small talk can be really freaking annoying. Does anyone actually enjoy talking about the weather, or the results of the latest awards show? No, they don't, and yet we continue to feel completely obliged to engage in small talk, some undercurrent of societal conversation that has to occur as soon as any silence emerges between two humans. People who hate small talk are probably in the majority, and yet this annoying style of conversation continues to dominate the universe.
Maybe someday, the world will become a place where it's culturally acceptable to look someone in the eye, interrupt their sentence, and say, "I'm so sorry, but I'm just not interested in what you're saying to me." But until then, it looks like we're forced to deal with the excruciating daily fear of getting stuck in a conversation about nothing with someone we don't really want to talk to.
For people who especially abhor small talk, there are certain situations that spell out absolute disaster. These scenarios tend to include tiny, claustrophobic locations, and people who you simply do not know well enough, so the conversation inevitably becomes painfully long and downright uninteresting. Here are seven unavoidable, daily struggles that people who hate small talk know all too well.