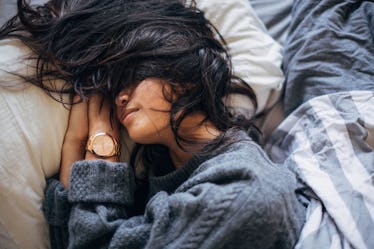 The Snuggle Is Real: Every Lazy Girl Can Seriously Relate To These 8 Things
Lazy is that one "L" word you don't run away from or get scared of committing to. Being lazy is genuinely a lifestyle, and if you still have to manage to get some adulting done, laziness is truly an art form. If you find yourself in the crew of people who are lazy, you know some things to be all too true.
For some people, it's easy to tune in and out of laziness. Maybe you decide to be lazy so you can catch up on your fave show or chill in the sun with a glass of lemonade the whole afternoon. For die-hard lazy people, there is no occasional visit to chilling the heck out and putting your priorities on hold for a bit. At any given moment, you are waiting to fully utilize that laziness and go into straight-up auto pilot.
Laziness is truly a way of unplugging. You aren't doing anything, and the only thing on your mind is reaching peak comfort and relaxation. The mindset of a lazy person is laid-back, and there are plenty of ways to flex your laziness. If you're lazy and are daydreaming about your couch or bed right about now, you and other lazy people have a lot more in common.