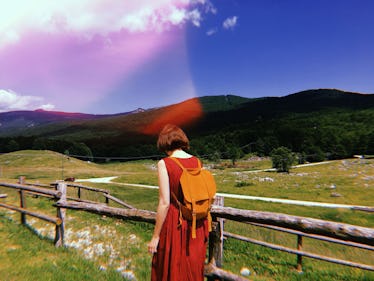 Travelers Are Opting For This One Type Of Rental In 2019 Over Beach Houses & Cozy Cabins
When you think about the places in the world you'd love to explore, where do you draw inspiration from? For me, I follow inspirational travel accounts on Instagram to fuel my wanderlust, and add new destinations to my ever-growing bucket list. (My privately saved travel collection is seriously massive.) And even though these destinations look beautiful in pictures, I often wonder how attainable they are, and whether or not I can afford to visit any of them in real life. What if I told you that next year's travel trend is inspired by royalty, and it's actually affordable? People are booking castles in 2019 for a unique kind of getaway, according to HomeAway.
Yes, you read that right. People are booking castles — as in the dreamy homes of princesses in some of your favorite fairy tales you read as a kid. According to HomeAway — a popular site used to book cozy cabins, lake houses, beach cottages, and more — bookings for castles have gone up a whopping 55 percent.
Though it sounds like a lavish and unattainable way to vacation, it's actually pretty affordable, with some castles starting at $39 per person, per night. No, that's not a typo. I really mean $39 to stay in a freaking castle.
Why is it so cheap? Hint: There's strength in numbers.
The trick to booking a luxe castle for your next getaway is to have a large group of people booking together. (Think couples trip, friend-cation, or giant family reunion trip.) Larger properties have more beds, which means more space for more people, which allows the cost per person to go down dramatically.
The castles listed in HomeAway's report can sleep anywhere from six to 20 people at a time, and if you're able to fill up the beds, you can book the castle for a steal. It'll be the trip of a lifetime for you and your loved ones. (Keep in mind that the number of beds does not equal the number of people who can be accommodated, so if it's not a couples trip, just make sure that there are some people in your group who won't mind sharing a bed.)
Why are castles getting so popular?
Frequent travelers are quickly realizing the importance of booking in larger groups. It's no secret that you can get bulk discounts at many attractions when you're buying a ton of tickets, and the same rule applies for accommodations.
Though it may be tricky getting everyone in your group to coordinate their schedules, the payoff will be totally worth it for the things you'll get to experience on your trip. In my opinion, spending a few nights in a castle for only $39 a night is reason enough to book a trip with a large group, but there are many other travel perks when you book together. Flights are often cheaper when you book a block of tickets at the same time, and when you get food, you can just order family-style and save money on individual meals.
What castles can you stay in?
When you think of castles, your mind may immediately head to Europe, which is accurate, for the most part. Surprisingly, there's a castle located in Rindge, New Hampshire that sleeps 22 people for around $66 per person, per night. (The total is $1,450 average/night.) The large size of the house and lavish lawn it's situated on is the perfect setup for a family reunion.
If you're longing to go abroad, you can stay in a stunning castle in La Flocellière, France that sleeps 10 people for around $39 per night. (The total is $385 average/night.) The castle overlooks a beautifully-manicured French garden, so be sure to pack a bunch of sundresses and floppy hats for a chic photo shoot.
You can also stay in a beautiful castle in Montegabbione, Italy for around $42 per person, per night, if you fill up all six sleeping spots. (The total is $252 average/night.) It's nestled in between Rome and Florence, so you can easily access either city from this point while overlooking the breathtaking Italian countryside.