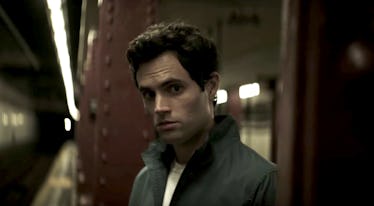 'Gossip Girl' Fans Are Going To Be Obsessed With Penn Badgley's New Thriller Series
Lifetime
Spotted: Lonely Boy is back in Brooklyn and in love with another charismatic blonde woman. No, it's not a Gossip Girl reboot, although the first trailer for Penn Badgley's new series YOU will definitely give remind GG fans of the iconic teen series. In fact, Badgely's character in YOU seems a lot like a convincing glimpse of what a post-Gossip Girl Dan Humphrey might be up to now.
YOU is a new Lifetime thriller series, which follows a bookstore owner named Joe (Penn Badgely) who falls in love with a woman named Beck (Elizabeth Lail). But it is far from a cute, romantic love story: Joe is actually secretly stalking Beck, both physically and online, sleuthing through her social media to try to make her love him. The series also stars Pretty Little Liars alum Shay Mitchell as Beck's best friend Peach Salinger and features John Stamos as Beck's therapist, two potential roadblocks to Joe's obsessive advances. The series is adapted from the 2014 novel of the same name by Caroline Kepnes.
The first trailer for the series revolves around a central incident: Beck falls onto the track at a subway station in Greenpoint, Brooklyn but Joe pulls her onto the platform before the train comes. The life-saving moment ignites Joe and Beck's romantic relationship, but it also causes suspicion among those close to Beck, particularly her best friend Peach. We then see that Joe is not your usual knight in shining armor, but actually a murderous stalker, who clubs a jogger in the park and dumps a body in the woods. Check out the first trailer for YOU below:
Obviously, the new character is going to draw some comparisons to Penn Badgley's most iconic role as Dan Humphrey, the hipster outsider who found his way into the inner circle of Manhattan's social elite on Gossip Girl. With how Gossip Girl ended for Dan, this new character of the obsessive stalker Joe actually feels like a perfect next step.
I think pretty much everyone knows this now, but spoiler alert if you haven't finished Gossip Girl just in case. Given that twist reveal in the series finale that Dan Humphrey was Gossip Girl all along, it only makes sense that we would see Lonely Boy up to even more psychological, obsessive shenanigans in Brooklyn. Plus, Penn Badgley's character in YOU was billed as "an obsessive, yet brilliant twenty-something who uses the hyper connectivity of today's technology to make the woman of his dreams fall in love with him." Umm, that sounds pretty familiar to me!
But since we never got to see the full depth of Dan's secret life in Gossip Girl, Joe in YOU will definitely be a lot more unsettling and creepy. For one thing, it looks like Joe doesn't really have qualms with killing people, and he is also much more obsessed with Beck than Dan was with Serena, it seems. One of the interesting relationships that arises in the first trailer is between Beck and her best friend Peach, played by Shay Mitchell. Peach seems to be the person most suspicious of Joe's motives, but she may also be pretty similar to him. It looks like Peach is obsessed with Beck herself.
YOU comes from The Magicians showrunner Sera Gamble and Riverdale producer Greg Berlanti. It will serve as Penn Badgley's first leading TV role since Gossip Girl, and Shay Mitchell's first major role since Pretty Little Liars. Elizabeth Lail is best known for portraying a version of the Frozen princess Anna in Once Upon a Time.
YOU's first season was picked up for ten episodes by Lifetime, and it is slated to premiere on the network on Thursday, Sept. 6 at 10 p.m. ET.