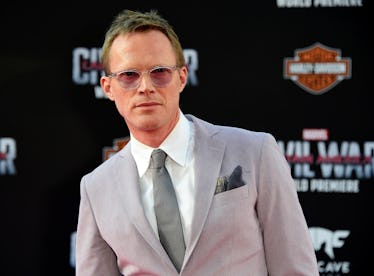 Paul Bettany Won't Play Prince Phillip In 'The Crown' Season 3 & Fans Are Crushed
Frazer Harrison/Getty Images Entertainment/Getty Images
Earlier this week, fans of The Crown were thrilled at yet another potential casting confirmation when Paul Bettany was in talks to play Prince Philip on Seasons 3 and 4 of the Netflix hit. He had Philip's blonde looks, his resume was hefty with diverse experience, and, to me, he actually felt the most "right" in what there is of the new cast so far. However, in an unexpected twist, sources have confirmed that Paul Bettany won't play Prince Philip in The Crown's upcoming seasons.
Bettany's busy filming and promotion schedules are to blame, as he will appear in the highly anticipated blockbusters Avengers: Infinity War and Solo: A Star Wars Story later this year. A season of The Crown reportedly takes up to eight months to film. Although the BBC has said that Season 3 will premiere in 2019 rather than this year in its usual late autumn spot, Bettany reportedly couldn't commit to the lengthy production schedule. Somewhere in Buckingham Palace, the actual Philip is wickedly delighted that his fictional self is causing trouble for "those TV blokes."
Now, the character of Philip remains on the show's casting To Do list alongside the major characters of the Queen Mother and Princess Margaret's husband Antony Armstrong-Jones. Suzanne Mackie, a producer on The Crown, has also confirmed that Season 3 will introduce Camilla Parker Bowles, who knew her now-husband Prince Charles long before he met his first wife Princess Diana. While it's unclear where Season 3 will end in time, there's speculation that Diana will briefly appear at the end of the season before Season 4 tackles their extravagant 1981 wedding.
Netflix announced Broadchurch star Olivia Colman as the new Queen Elizabeth II last year, while the original Margaret, Vanessa Kirby, essentially confirmed Helena Bonham-Carter as her successor in an Instagram photo of the two together.
With Bettany officially out of the picture, some fans are understandably disappointed in the way this played out.
Of course, the TV world moves quickly, and people are already debating who the ideal Philip is for the next decade of the royal family's life. Front-runners for the internet include Jason Isaacs, Ralph Fiennes, and David Tennant, all actors with a Harry Potter past.
Tennant has Broadchurch co-star Colman's personal vote for the role. While promoting her role in Murder on the Orient Express to Radio Times in November, Colman responded to people's wishes for her reunion with Tennant on The Crown:
Oh, can you imagine what fun! We'd never get anything done, we'd chat all day. Oh, that would be heaven!
Ironically, Tennant also preceded the original Philip, Matt Smith, in the title role on Doctor Who. You know that joke about how any notable British actor appeared in the Harry Potter franchise? I'm beginning to think that The Crown is the country's new six degrees of Harry Potter.
Given the high profiles of Colman and Bonham-Carter, it's safe to say that we can still expect a well-known star to take over as Philip. While appearing on Late Night With Seth Meyers recently, Smith hinted that he knew who the next Philip would be, suggesting that the production team had Bettany in mind for quite awhile. Well, don't count your chickens before they hatch, guys.
British newspaper The Sunday Times reported that a key focus of Season 3 will be the country's "Wilson era," focusing on Prime Minister Howard Wilson and his two-year term in the 1970s. Heavy storylines for the character of Philip may include Princess Anne's 1973 wedding and, should Season 3 reach 1979, the assassination of his uncle Lord Louis Mountbatten.
While I don't have a particular favorite in mind to play Philip now, I definitely wouldn't complain if it was a former Harry Potter actor!