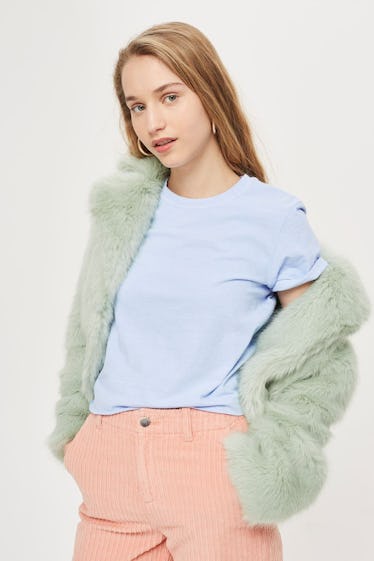 Pastel Colors Are Trending On Pinterest, So Put Down The Black & Try These Cute AF Outfits
Topshop
The thought of sifting through your closet for pastel outfit ideas might bring back unpleasant Easter-day flashbacks of you in a baby yellow dress embellished with rows of ruffles and faux flowers. Maybe even an oversized straw hat with a big bow on the side. And OMG! Ruffled socks. I can't remember how old I was when I stopped wearing ruffled socks but I haven't looked back since — even though they some how came back in style some time last year.
These days, pastel can feel a lot more grown up, not to mention, much more fashion-forward. And apparently the child in me isn't the only one who thinks so. According to press release from Pinterest, light and airy colors are having a major moment on the inspiration search engine and finally fashion has caught up to my affinity for baby pinks and minty greens.
Whether you're braving the lingering cold temperatures on the east coast or you're unsure of when summer ended and winter began (like me!) in Los Angeles, there is a selection on the market that runs the gamut from coats to slipdresses in every shade of pastel you could dream of. Here are the pieces I added to my virtual shopping carts.
Lavender
Have you pinned anything in shades of pale purple recently? I'm willing to bet you have. When I reached out to a friend at Pinterest, she told me that searches for lavender-colored outfits are up 98 percent since last year.
Everyone needs a chunky cable knit sweater in a pastel shade. It'll keep you warm, while brightening up your day.
I'm kind of obsessed with the juxtaposition of the side cutouts, thigh-high slit, and corset back against the soft lilac color, sheer train, and rows of ruffles. It woud've been totally inappropriate to wear this to Easter of '99, but this would might've have been my idea of a cool if I dressed myself.
If color isn't exactly your thing, the best way to add pastels to your wardrobe without feeling like a bad rendition of Baby Spice is start with your accessories. It's the perfect way to be on trend without feeling like you're being forced out of your comfort zone. I love the shape of these sunglasses paired with retro transparent lenses and a clear frame.
Ash Rose
Up a whopping 105 percent percent in searches (the highest percentage of all pastels), pink is clearly having it's time in the spotlight. But it's not just any pink. Think shades of rosé with a hint of a grey undertone. It's feminine, without feeling too girlish.
I'm not much of a sneaker girl. In fact, I'm almost always in heels — people don't realize how short I really am until they catch me in flats on a really off day. But these, are some sneakers I can definitely see myself wearing. I can picture the outfit now: A crisp white tee tucked into a pair of high-waisted cropped boyfriend jeans and these. It's time I start embracing my height anyways!
I'm obsessed with this cute bucket bag and it's only $16. To make it feel a bit more expensive, I would actually take the long straps off and use the mini handle.
Light Green
Minty shades are totally my jam. I bought a faux suede motorcycle jacket in a pastel green years ago and I am still obsessed with it. Up 49 percent on Pinterest this year, it's important now, more than ever, to be minty fresh.
I actually added this entire outfit to my cart because I love it so much!
Rebecca Minkoff makes the most buttery-feeling suede bags, and one in this poppy mint color makes it extra difficult to resist.
I can be super picky about my shoes and I love that these are an on-trend color without being too in-your-face. Perfect for a day of running errands, without feeling like you look frumpy.
All Of The Above
Sometimes a single color just isn't enough. The best thing about each of these hues is that they all complement each other so well. So, when in doubt, wear them all at once instead of having to choose your favorite. And what's great is I've been seeing rainbow stripes in pastel shades everywhere, so no matter how much you're looking to spend, there's an option for you.
I don't think I could ever get myself to drop $1,600 on a skirt, but this pleated lamé skirt by Gucci is just too good! Somebody needs to get it. Maybe I can borrow it?
Here are some more feasible picks that pack the same sorbet rainbow punch.
Happy shopping!