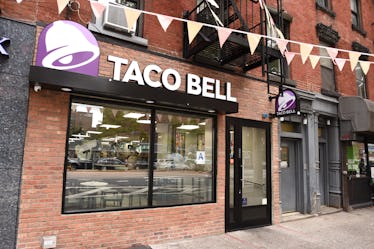 You Can Officially Have A Party At Taco Bell Now, So You Can Really Live Mas
Dave Kotinsky/Getty Images Entertainment/Getty Images
After any raging party, Taco Bell is a likely destination. But what if the roles were reversed and you could... actually have a party at Taco Bell? Well luckily for some of us, the famous restaurant chain is giving it a shot. PARTY by Taco Bell is on the way, so get ready to live mas.
On Nov. 8, the chain announced "PARTY by Taco Bell," which will allow people to book a party in select Taco Bell locations from Nov. 24 to Dec. 22. Whether you're looking to celebrate life's biggest milestones or those "just because" scenarios, Taco Bell says it's the perfect venue to throw the best party ever. To start, head over to the Taco Bell website to book your reservation, which costs $25, for up to 10 guests. Once you arrive to the restaurant, a Taco Bell Party Decor Kit will be waiting for you, which comes with fun photo props saying things like "This party is fire sauce" and "Squad assembled." It also comes with party accents, creating the perfect vibe. (Unfortunately, the kits don't come with tacos, but I promise if you invite me to your party, I'll buy you a burrito.)
Although there's no food included, Taco Bell says in a press release that you'll get "reserved seating with breathtaking views of tacos." Moreover, "a team member will help you order food once you're [there]," so you'll still get the very best options. You'll also get some fun party favors to kick up the celebration even further, from hot sauce packet balloons to taco sunglasses and Taco Bell gift cards.
So far, the program is only available in 10 locations, including places in Florida, Michigan, New York, South Carolina, and Virginia. But even if there's not a participating Taco Bell near you, there's still a way for you to get the kits and party favors. There's an option to buy your own Taco Bell Party decor kit online, so you can create your very own DIY Taco Bell party. The kits come in two designs: "Feeling Luxe," which comes in a variety of yellow and black color patterns, and "Feeling Electric, which comes in more vibrant patters. I bet $25 has never gotten you something so good.
"After introducing 'Taco Bell Weddings' in our Las Vegas Cantina and seeing the huge response — we have had 110 weddings booked there in just over a year — there was a clear need and opportunity to translate this intersection of fun, cool, and accessible entertaining to any kind of occasion," explained Global Chief Brand Officer at Taco Bell Corp Marisa Thalberg in the press release. "For the most devout Taco Bell fans to those who will just find this kitschy cool, we are about to make it easy to become the perfect postmodern party host."
Indeed. Ain't no party like a Taco Bell party, so hurry up and book yours while you can. (And don't forget to invite me. I'll really get you that burrito if you do.)