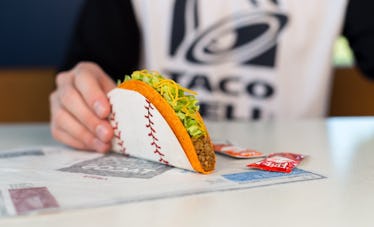 You Can Get A Free Doritos Locos Taco At Taco Bell Today For An Afternoon Snack
Taco Bell
By now, you probably know that the Boston Red Sox won the World Series on Sunday, Oct. 28. But did you also know that you get a free taco out of it? This is all because of Taco Bell's "Steal A Base, Steal A Taco" promotion that goes on every year during the world series. Red Sox outfielder Mookie Betts stole second base during the bottom of the first inning during Game 1 of the World Series. Thanks to him, you can enjoy a free taco from Taco Bell today. Here's what you need to know.
On Thursday, Nov. 1, you can stroll into any Taco Bell and a get a free taco. Not just any ol' taco, but a crunchy and delicious Doritos Locos taco. Thank you, Mookie Betts (aka Taco Bell's newest "taco hero"). The "Steal A Base, Steal A Taco" promotion, which is an annual tradition for Taco Bell, kicks off today at 2 p.m. local time and lasts for four short hours. Make sure to get yours before 6 p.m. local time, otherwise, this is a totally missed opportunity on your part. If you are in line for a free taco right as the clock strikes 6 tonight, it's OK. You can still get your free taco. Just let the cashier know that you've been waiting. All you have to do is tell a Taco Bell employee that you'd like to participate in the deal and you'll get a complimentary Doritos Locos taco. Free food is the best food, IMO.
If you'd rather avoid the rush, you can steal your very own free taco before you arrive. If you're sitting at your desk, or en route to your nearest Taco Bell location, go ahead and place your no-cost taco order ahead of time on the Taco Bell website. You can pick it up any time on Thursday, Nov. 1, according to Taco Bell.
There's no purchase necessary to get a free Doritos Locos taco, but the deal is limited to one complimentary taco per person. I'm not sure about you, but one taco isn't enough to fill me up. I'll be ordering a side of cheesy fiesta potatoes to go with my Doritos Locos taco. What I do love about this promo is that it truly is a no-strings-attached kind of deal. So if all you want is a free taco, you can have it. No questions asked. The "Steal A Base, Steal A Taco" offer is open to residents of all 50 states, as well as anyone who calls Washington D.C. home.
Although, the terms and conditions of the "Steal A Base, Steal A Taco" deal note that Taco Bell managers can revoke your free taco if they think you are participating in any sort of fraudulent activity. I'm not aware of any underground taco market, so just make sure to behave yourself out there. The free Doritos Locos taco offer is valid while supplies last at participating Taco Bell stores nationwide.
The Doritos Locos taco is a godsend as far as fast food is concerned. There are several different flavors including the Cool Ranch Doritos Locos taco (my fave), the Fiery Doritos Locos Taco (the most extra), and the Nacho Cheese Doritos Locos Taco (cheese > everything else). Call it an afternoon snack or an early dinner, just make sure you to grab your one of these three free Doritos Locos tacos today. You know it's going to be a good day when everyone gets free Taco Bell.