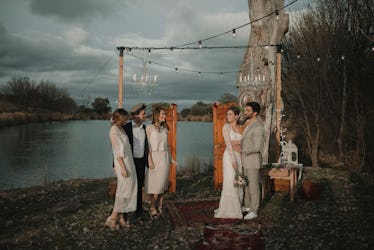 How To Make Packing For A Summer Wedding Weekend Totally Stress-Free
We're in the midst of wedding season, which means you might be gearing up to head to cities all over the country — and possibly the world — to see your friends and family at joyful celebrations. But even though the wedding days themselves are always fun days to remember forever, getting there isn't always so easy. Packing for a summer wedding weekend can be super stressful — especially if you're headed somewhere far away. But with these tips, you can make your wedding packing process a lot simpler.
As someone who used to sing in and manage a wedding band, I've been to more weddings than I can count. I've had plenty of amazing experiences at weddings, and also plenty of instances that were less than savory. But along the way, I picked up a few tips that have made me something of a wedding packing expert, if I do say so myself. I always pack extras of everything from bug spray, to flats, to bobby pins, all in case of a wedding day emergency.
So, if you're headed to a wedding soon and need some tips on what to bring with you, keep reading for all of the things I never go to a wedding without.