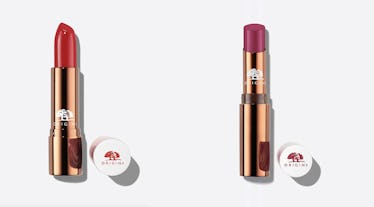 Origins' New Lipsticks & Balms Are Made From Real, Recycled Flowers & It Doesn't Get Cooler
Origins
I get so excited anytime a story about a sustainable or clean beauty launch comes my way. When there's a launch that's a combination of both, it's therefore doubly exciting. Origins' Blooming Lipsticks and Balms are the latest lineup of products that have slapped a giant smile across my face and on top of being good for the earth and for skin, they're also quite excellent for the nose. If you like flowers then you're going to love these new products, which are essentially little bouquets in a tube. (And if you don't love flowers then are you even human?)
The new range boasts two equally covetable products — the Blooming Sheer Lip Balms, which provide natural coverage and a soft finish; and the Blooming Bold Lip Balms, which provide rich, full coverage. While their intensities and finishes are what set the two products apart, their ultra hydrating base formula featuring real flowers (no fake scents, here!) is what unifies them and renders them unlike anything else on the market.
Both products are formulated using re-claimed flower waxes that have been re-purposed from perfumeries (the perfumeries wouldn't otherwise use the waxes after extracting the flowers' scented oils), as well as whole crushed flowers. As if that wasn't fresh enough, they're both also infused with cruelty free wildflower and lavender honeys, which boast extreme nourishing powers, and and essential oil blend of rose and geranium, which provide a sweet floral aroma. The result is a base that not only smells like a greenhouse in full bloom but also helps keeps lips soft, healthy, and happy.
As explained by Lizz Starr, Executive Director of Origins Global Product Development, in a press release, "Through dedicated research, we discovered that the natural waxes in flowers are vital to the protection and overall health of its petals, making them ideal ingredients to help protect lips from dehydration. Secondly, these flower-based waxes have a melting point close to human body temperature, which allows for a smooth, effortless application. Lastly, Origins strives to incorporate naturally derived ingredients in our formulas, so creating a product that incorporates re-purposed, naturally derived ingredients was an all-around win."
Agreed! Not only is it rad that you get to wear actual flowers on your pout, but in doing so you're also ensuring that those flower products, which would otherwise go to waste, are getting a second life. And they smell good? I mean, come on.
Blooming Bold Lipsticks come in a range of 24 shades, all of which are in the neutral/ floral/ berry families. Blooming Sheer Lip Balms, on the other hand, come in a sampling range of eight shades. But no matter which tube you choose from either product type, it's sure to be infused with 12 different types of flowers in order to capture each of their conditioning properties.
Both products can be shopped now at on the brand's site and cost $20. That's about the same price as a dozen roses or a new potable flower plant, except these blooms will live on and on with no watering necessary. In fact, they'll hydrate you.