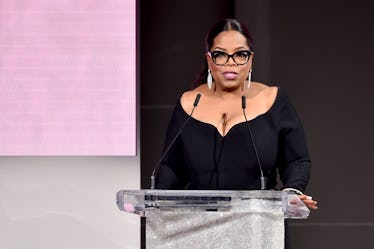 Oprah Says Being President Would "Kill" Her, So There's That
Theo Wargo/Getty Images Entertainment/Getty Images
By the start of the summer, the idea of Oprah Winfrey running for president in 2020 had become a non-story. Now, whatever vestige was left of that talking point is practically dead in the water. In an interview for the August 2018 Vogue UK, Oprah says being president would "kill" her, because of the inherently cynical nature of politics.
"In that political structure — all the non-truths, the bullsh*t, the crap, the nastiness, the backhanded backroom stuff that goes on — I feel like I could not exist," Oprah told Vogue. "I would not be able to do it. It's not a clean business. It would kill me."
Oprah first sparked speculation that she might have a future in politics in March 2017, when she said in an interview that President Donald Trump's election success made her rethink what's possible for a political novice.
"I actually never thought that that was — I never considered the question even a possibility," she told Bloomberg's David Rubenstein. "I just thought, oh, oh... I thought, 'Oh gee, I don't have the experience, I don't know enough,' and now I'm thinking, oh, oh."
Talk of Oprah running for president then reached its peak in January, after a highly rated speech at the Golden Globe awards prompted light hearted (but clearly half serious) calls for the talk show icon to make a run at the White House.
The idea that she could begin a campaign only intensified as close confidants gave quotes to the press that implied she was thinking of a run. "It's up to the people," Oprah's longtime partner, Stedman Graham, told The Los Angeles Times. "She would absolutely do it."
Even when here friends tried to stamp the story out, they ended up revealing that the possibility was very much that: possible.
"I'm thinking she is not going to be running for president," close friend Gayle King said on CBS This Morning in January. "I do think she is very intrigued, and I also say, as I've heard for many years on the 'Oprah Winfrey Show,' you always have the right to change your mind. But that is certainly not something she's considering right now."
King later added for good measure, "I, on the other hand, think, wow. Wow. A lot of people were thinking wow. So we'll see… I'm very intrigued."
The Oprah 2020 headlines had become so rampant that President Trump responded to the speculation.
"Just watched a very insecure Oprah Winfrey, who at one point I knew very well, interview a panel of people on 60 Minutes," the president tweeted in February. "The questions were biased and slanted, the facts incorrect. Hope Oprah runs so she can be exposed and defeated just like all of the others!"
Since then, however, the speculation has lost steam, and whatever life it had was practically undone by Oprah in her latest interview. What the talk show host won't stop talking about, however, is the effects of the #MeToo era, and what she sees as the path forward for women.
"People talk about 'these are such dark times', but what if we shift the paradigm? Because I see it differently. I see, 'Isn't this remarkable that we're waking up?' For years, women have endured craziness," Oprah told Vogue UK. "This is what's happening to people. They're allowing themselves to not just become corroded, but to become hysterical. You've got to lean to the happiness."
So, yes, Oprah still speaks with the type of optimism that drew voters to the last fresh face that the Democratic party voted into the White House, but it looks like she has none of the interest to match.