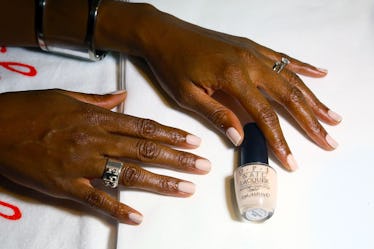 OPI Is Bringing Back Some Of Its Most Beloved Shades, But They'll Be Gone In A Flash
Astrid Stawiarz/Getty Images Entertainment/Getty Images
There's no other nail polish quite like OPI nail polish. And while my stance may be a bit biased — seeing as I only ever wear the line's timeless Bubble Bath shade — the truth of the matter is that OPI's quality is simply unmatched. The only bad news when it comes to the iconic nail brand is that sometimes their most beloved colors get discontinued. But if you've been itching to get your hands on a few of the company's shades that have now disappeared from the shelves, then your lucky day is approaching — and fast!
On Sept. 5, OPI announced via Instagram that they would be bringing back nine of their most beloved shades as a part of their #OPIFanFaves campaign. Yes, you read this correctly! This means that you can now get Deer Valley Spice, Grand Canyon Sunset, Hong Kong Sunrise, Japanese Rose Garden, Mrs. O'Leary's BBQ, Peru-B-Ruby, Señorita Rose-alita, Smok'n In Havana, and Vodka & Caviar once again. Sounds amazing, right? However, the one downside is that they will only be available for a limited time as a part of the brand's Infinite Shine 2 line.
But with OPI being the absolute angels they are, every shade will be available on Amazon, which should make shipping a breeze.
So how did the retailer nail down the nine shades? Simply by listening to its customers! OPI gathered a number of posts from across social media to make their picks, and it seems as though their followers on Instagram are more than thrilled to enjoy these throwback colors.
"So excited about this," one person commented. "Mrs O'Leary's BBQ will forever be my favorite and I'm so excited to load up!" "Finally going to get my hands on Vodka & Caviar. GimmeGimmeGimme," said another.
While OPI has yet to announce an official release date for the line, all nine shades are currently available for pre-order on Amazon, according to the company's website. But if you're on a pretty tight budget and you're not sure what shades to pick, OPI is also offering a five-piece Fan Faves mini set, which includes a primer, Mrs. O'Leary's BBQ, Grand Canyon Sunset, Deer Valley Spice, as well as a glossy topcoat for $29.00 — also on pre-order on Amazon. And as per usual, the brand promises "up to 11 days of gel-like wear and shine" so you won't have to worry about chips between manicures, even if you your nails by yourself at home.
If you're over traditional manicures and are looking for some cool nail art to try out with this collection, definitely head over to the Fan Faves site, where OPI offers a tutorial for a totally unique manicure. Also, since this collection offers a lot of red and pink shades, using this line to test out the cherry nail art trend is always a fun idea as well!
Back in August, the editors over at Refinery29 shared their favorite nail art trends for fall, and one I can definitely agree on is the negative space manicure. "Between vacations and summer parties, I can't be bothered with regular nail appointments," Deputy Beauty Director Jessica Cruel said. "That's why I try to stick to negative space manicures because I can go weeks without a salon trip."
But while summer is pretty much a wrap, I can definitely get on board with stretching out my manicure for fall as well!