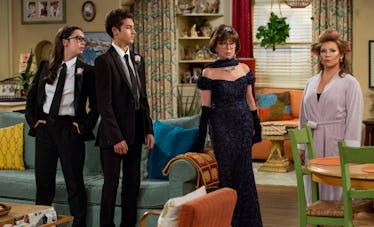 Get Excited, Because There's A Chance 'One Day At A Time' Might Not Be Over
Netflix
For three seasons, the Netflix revival of One Dat at a Time has wowed fans by combining the bygone era of classic family sitcoms with bold and refreshing takes on modern topics. The show has become a particular favorite among minority communities that see themselves represented in it, such as the Latinx community, the LGBTQ+ community, U.S. immigrants, and war veterans with PTSD. That love was why Netflix's abrupt decision to cancel the show last month stung so badly. But there is still hope: One Day at a Time might get saved by CBS according to a new report from Vulture. The only problem is that Netflix could get in the way of the deal.
It has been less than a month since Netflix announced the cancellation of One Day at a Time shortly after the premiere of its third season, and there are already talks of networks that may or may not jump in to save the series. The most likely candidate right now is CBS All Access, which reportedly just submitted an official bid to make at least on more season of the Netflix-axed show. The submitted bid makes it clear that CBS All Access is all-in to save One Day at a Time, but sadly, there is a potential hitch in the plan. Netflix's deal with One Day at a Time's producer Sony includes a clause that gives Netflix veto power over any potential move to another streaming service within 2 years of cancellation. So basically, Netflix has the power completely prevent CBS All Access from acquiring One Day at a Time.
So is there hope for Netflix to waive its power of veto and allow CBS All Access to save One Day at a Time? That is still a possibility, but Netflix has yet to give a definitive yes or no about this, so it is still up in the air. The show's co-creator Gloria Calderón Kellett addressed Netflix's hold over the series' future at a recent industry event. Kellet said, per Vulture,
We are hopeful that maybe there can be special dispensations made so that that's not the case, especially given Netflix's tweet about supporting this community and loving the show. You know, if you love us, set us free, I say.
The statement refers to a thread of tweets that Netflix's official Twitter account posted to announce One Day at a Time's cancellation, which was notably longer and more personable than any of the streaming service's other cancellation notices.
While the CBS All Access deal is still pending Netflix's approval, there are some other reported options for One Day at a Time that actually would not require Netflix to sign off on them.
Other CBS-owned networks like Pop TV and The CW have also reportedly expressed interest in saving the series, and the Netflix veto addendum would not apply to a deal with either of those networks since they are not streaming. But they do both carry other issues: Pop TV is too small to afford One Day at a Time without finding another production partner, and the CW currently only airing hourlong shows in primetime, making it impossible to fit a half-hour sitcom into its schedule as it is.
Although there seem to be a lot of hitches in finding a new home for One Day at a Time, fans should still be reassured that there are plenty of networks trying to make it work. Hopefully a solution will arise soon.