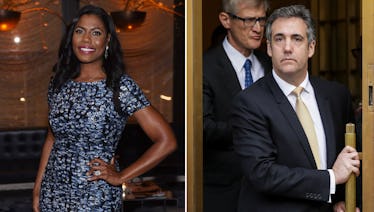 Omarosa Has Video Of Michael Cohen Too, Because All Drama Is One Drama
Nicholas Hunt/Getty Images Entertainment/Getty Images/Drew Angerer/Getty Images News/Getty Images
The world's been watching closely as the drama surrounding President Donald Trump's former lawyer Michael Cohen unfolds. On Tuesday, Aug. 21, Cohen pleaded guilty to eight counts of fraud. As the pieces of Trump and Cohen's history started to align, in walked Omarosa Manigault with the final puzzle piece. Omarosa Manigault's video of Michael Cohen is bringing everything together — because all the drama is one drama.
Over the past few weeks Manigault has worked to complement her tell-all book Unhinged, which dropped on Aug. 14, with audio recordings meant to chip away at Trump's White House — including one that appeared to show Trump apparently unaware that Manigault had been fired from the White House by Chief of Staff John Kelly. Elite Daily reached out to the White House for comment on Manigault's alleged recordings of Trump, but did not hear back. On Tuesday, Aug. 21, Manigault upped the game and released her first video, which was played on MSNBC's Hardball.
The video appears to show Cohen boarding Trump's plane in September 2016, just months before the 2016 presidential election. "He sat and met with the president during that trip," Manigault said on her Tuesday appearance on Hardball.
Manigault also claimed that Cohen was "very involved" in Trump's 2016 run to the White House. She told Hardball host Chris Matthews,
He was very involved. He was directing some of the things that were happening and he was impacting some of the decisions that the president made, as well as the president telling him to fix things.
Elite Daily reached out to the White House and to representatives of Cohen for comment on the video, but did not immediately hear back.
According to CNN, while in the process of pleading guilty to eight criminal counts — including tax fraud, bank fraud, and campaign finance law violations — Cohen also implicated the president. According to Los Angeles Times, Cohen admitted in his plea to paying $280,000 in hush money to Stormy Daniels and Karen McDougal — both who alleged affairs with Trump and claimed they were paid off in exchange for their silence — "in coordination and at the direction of a candidate for federal office." Elite Daily reached out to the White House for comment on Cohen's claims, but did not immediately hear back.
Under campaign finance laws, corporations cannot donate to a campaign for federal office. Even though Cohen says he made the $130,000 payment to Daniels himself — the $150,000 to McDougal was paid by a parent company of the National Enquirer — he was later reimbursed by the Trump Organization, according to the Los Angeles Times.
Cohen did not come right out and say Trump's name in court, only reportedly referring to him as "candidate for federal office," but Cohen's lawyer, Lanny Davis, in a statement to Elite Daily, said his client testified, under oath, that it was indeed Trump who "directed him to commit a crime." The statement reads,
Michael Cohen took this step today so that his family can move on to the next chapter. This is Michael fulfilling his promise made on July 2ndto put his family and country first and tell the truth about Donald Trump. Today he stood up and testified under oath that Donald Trump directed him to commit a crime by making payments to two women for the principal purpose of influencing an election. If those payments were a crime for Michael Cohen, then why wouldn't they be a crime for Donald Trump?
Now that all these messes are one big mess and everything is connected, it's time to sit back and watch it all unfold — or maybe unravel is a better word.