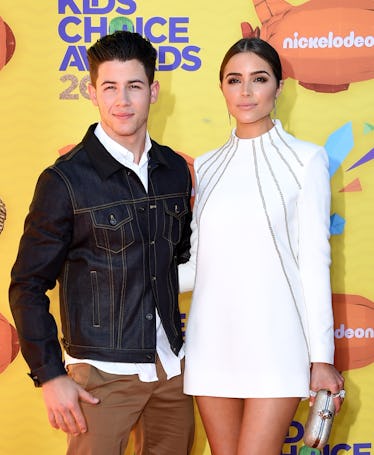 Olivia Culpo Reveals Her Dating Dealbreakers As Nick Jonas Reportedly Tries To Win Her Back
Jason Merritt/Getty Images Entertainment/Getty Images
Heartbreak sucks, there's no two ways about it. But there is one small silver lining we can all look forward to after having our love-struck hearts torn straight out of our chests: you get a clearer understanding of what you're not looking for. That's right. With every failed relationship, you get closer to a more complete understanding of your own dating preferences. Even celebrities go through this post-breakup learning curve. For example, Olivia Culpo's dating dealbreakers show she is totally clear on what she's looking for moving forward after two high-profile relationships.
First, let me give you a little backstory on Culpo's dating history. The former Miss Universe most recently dated NFL player Danny Amendola. The two split this past March after two years together. But, before she was with Amendola, she was dating pop star Nick Jonas for nearly three years. And now that Culpo, 26, is single again, Us Weekly exclusively reports that Jonas, 25, is making a play to get her back again.
According to the reports, a source revealed to the publication that Jonas has "reached out a couple weeks ago via text trying to reconnect." But is Culpo interested? NOPE. Not one bit. According to the insider who spoke with Us Weekly, she has "absolutely no interest" in getting back together with Jonas. Why? Well, according to the source, "He treated her badly when they broke up."
Elite Daily reached out to both Culpo and Jonas' teams for comment but did not hear back by the time of publication.
The alleged poor treatment could have had something to do with the fact that he was definitely super affected by the split. In a 2016 interview with OUT magazine, he talked about the entire album he created as a result of their breakup entitled Last Year Was Complicated. He explained in the interview:
With this one, I made a real point to tell stories as honestly as I could. It became very clear what it was going to be about, after the breakup. I just dove in headfirst and wrote about all of it. I think it was the most meaningful relationship I've ever been in, and it was the longest.
But no matter what his reasoning for allegedly treating her poorly was, Culpo is having none of it. As I said, people learn from their heartbreaks and Culpo has made it clear she's done messing around with mean dudes. In fact, in a recent interview with Us Weekly, at the Kim Crawford Wines summer party in L.A on Tuesday, May 15, she got real about what she no longer puts up with in a relationship.
"You want to have people that have an open heart and are kind people," Culpo told the magazine. "I feel like one of the biggest turnoffs for me, like I can spot right away, is when somebody's not nice to a waiter or something like that. I pay attention to that stuff a lot. That specifically."
I'm going to have to guess a guy who "treated her badly when they broke up" isn't really her best bet when it comes to kind people so I respect Culpo for sticking to her guns.
For those of you getting in line to be the next Mr. Olivia Culpo, I'll let you in on one other thing she's looking for: a charitable heart. The star told Us Weekly that she "definitely" wants to find a dude who cares about charity as much as she does.
The main takeaway here? If you want to date Olivia Culpo, BE NICE. Being rich, hot and super famous probably doesn't hurt, either. Just guessing on that last bit, though.
Check out the "Best of Elite Daily" stream in the Bustle App for more stories just like this!