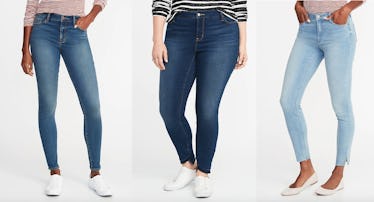 These New Jeans From Old Navy Feel Warm Like They're Fleece-Lined, But They Actually Aren't
Old Navy
Doesn't it feel like your legs could easily break in half from the chilly frost every winter? Long coats have never really been my jam (I'm 5'2"), and I'm still confused about how layering leggings underneath jeans works. But, thanks to the new Old Navy Built In Warm Jeans, I'll never have to stuff Hot Hands Hand Warmers into my pants ever again!
OK, I might be exaggerating a little bit here — I've never shoved hand warmers into my pants before (unless you count my boyfriend's literal warm hands in my jean butt pockets). However, that's not to say I haven't thought about doing so, especially when it's blizzarding outside and I can't feel my legs. Although hand warmers for legs isn't really a thing yet (Shark Tank, here I come!), leggings-underneath-jeans and long, floor-length jackets have become the weak winter solution to heating up your legs.
It wasn't until last year, when a fashion editor I worked with shared with me the super comfy leggings she was wearing underneath her jeans. "I'm sorry, you're wearing leggings under your jeans?" I asked. Up until that point, I had no idea that people were actually stuffing their little legs into super tight leggings, and then putting super tight pants over those leggings. How is that possible, people? I can barely squeeze my legs into just my jeans, let alone add another layer in between.
For those like myself who can't understand wearing leggings with jeans at the same time, there's always been long winter coats. Used to protect your legs against fierce winter winds, a long coat basically forms a little tent of heat below your waist. Although they might be super warm and comfortable, the silhouette just isn't for everyone, and TBH, they always seem to remind me of that weird black overcoat that Keanu Reeves sports in The Matrix.
So, what's a gal to do when she doesn't wanna double up layers, but also still wants to look (and feel) like a cute snow bunny in her winter apparel? Girl, meet Old Navy's new Built In Warm Jeans. Not actually lined with fleece (like some other jeans on the market), the inside of the Built In Warm Jeans denim is brushed back, so that it creates a fleece-like feel, without the added weight, according to Bustle.
A complete game-changer in terms of winter fashion, the Built In Warm Jeans come in multiple washes and styles (think high-rise or super skinny), and retail from $39.99 to $49.99 for both women and men. (Yes, dudes may be playing it tough, but their legs get cold, too!). The "jeans" (I put them in quotes because they certainly don't feel like jeans) are available in sizes 0 to 30, as well as petite, regular, and tall options, too, so there's room for everyone in this collection.
Whether you'll be waiting in line to enter your favorite nightclub during a snowstorm or just heading to the grocery store to pick up a hot wintery soup, I can guarantee that the Built In Warm Jeans from Old Navy will change your relationship with the coldest, dreariest, frost-biting season of the year.